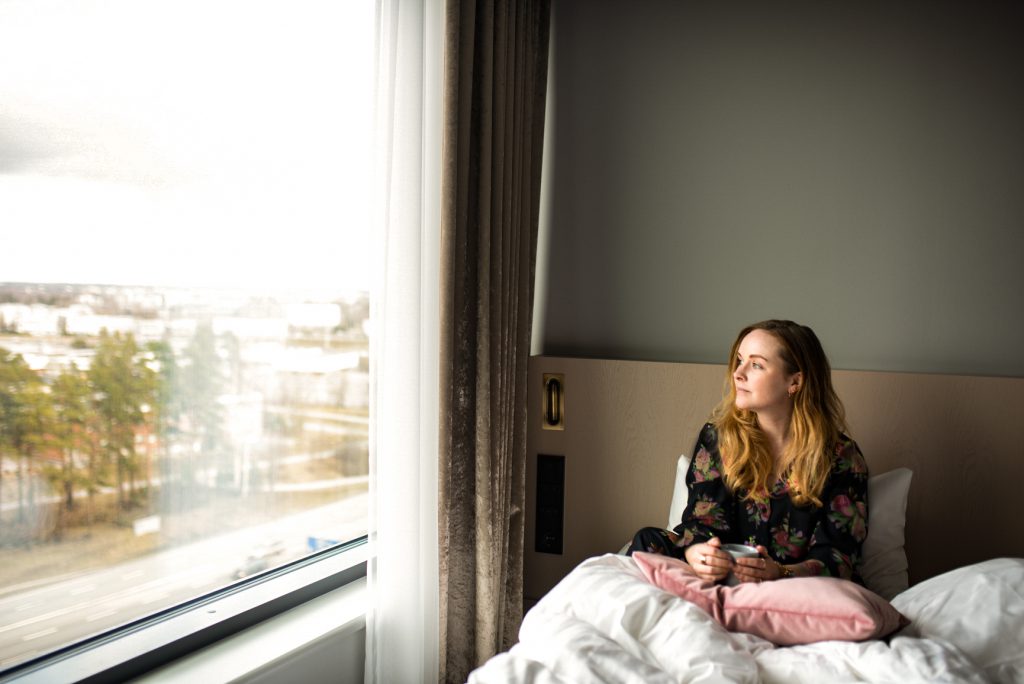 Sleep is so important, and I love sleeping. I'm turning into the worst version of myself when I don't sleep well or not enough, and over the last year or two I've figured out a good strategy for myself to optimise my sleeping routine.
---
To practise this in celebration of International Sleeping Day (13.3.), my dear friend Veera and I were invited to Break Sokos Hotel Flamingo over in Vantaa: have the perfect, relaxing sleeping experience, and also to escape the news for a while, having a little pyjama party and treating yourself.
With 232 rooms, Break Sokos Hotel Flamingo is Finlands biggest hotel, a popular destination for little getaway because of its spa, and direct access to the Jumbo mall. So, technically you don't even have to go into the great outdoors to experience everything from some shopping fun, relaxing spa treatments, delicious food and then a great nights sleep. The newly renovated rooms are in a soft, modern colour scheme, with bright, big windows – like in the Harmony suite we stayed it, that are the ideal atmosphere for good sleep, good company, without any distractions. Read more about the hotel here.

It is an easy way to get away within a 40-minute bus ride, spend time with good friends or family. Initially, the trip was intended to be a little bit of a workcation as well, but with the circumstances, we decided to use the time to get a grip of all that's going on and focus on well-being and – most importantly – sleep.
As soon as the world is back to normal, I definitely recommend looking into a little staycation – we all spent enough time in our homes by then, and it's a great way to support local hotels.
---
*This is a paid collaboration with Sokos Hotel Flamingo*
---
---
Step-by-step guide to the best nights sleep
While many of us are stuck at home, for the time being, it's the perfect opportunity to figure out what your perfect sleeping rhythm and routine are. So maybe it's time to experiment a little with when you're going to bed, when you get up, when you eat, what pillow you use and many more things to consider. Because we're all the worst version of ourselves when we don't sleep properly.

Here's a list of things to try out, play around with and find out how you can optimise your routine to get the perfect night of sleep.
---
Treat yourself & Relax – a good nights sleep starts with a relaxing end of the day, and of course, this isn't always possible in this way, but we all do what we can. We started off with a well-deserved glass of bubbles and some afternoon treats. At home, I like to turn on the sauna for a relaxing evening sauna. At Flamingo Spa, which is well-known for its spa experience, you have a wide selection of treatments that will get your body and mind into the right space to ease into the best night of sleep you can get. At Flamingo Spa, we got pampered with a hay steam, that relaxes your whole body and back especially, accompanied by the soothing smell of hay from the alps. You can book yours here. Go for a refreshing swim and a sauna afterwards, and your body will be perfectly relaxed for a good nights sleep!

At home, how about having a sauna, a long bath or just a really good shower.
Skincare – again this us super subjective as everyone has a different skin type, different preferences and whatnot. I enjoy rich textures and natural scents, heavy perfumes and cremes that disappear right away are not for me. It's a nice and calming ritual every night, and every couple of days add an exfoliant or a mask.

I've been using the Lumene Harmonia line for a while now, so I was so pleasantly surprised when it was offered at the Flamingo Spa as well! I use the day- and the night creme, as well as the balm.
---
---
Dinner time – don't eat too late, but also not too early to keep your blood sugar levels balanced. I am an old lady, so if I eat after 8 pm, I know I won't sleep well because my body is too busy with the food. Finding the right time to eat, and also what to eat, will help your sleep immensely.
Temperature – the perfect sleeping temperature is at around 21°C – and getting some fresh air in is really important as well! So make sure to open your window, adjust the thermostat-
Light and Darkness – it's rare that I can't sleep because of light, but having a 3D sleeping mask is an absolutely essential for me on flights, for example, or in very light rooms with a lot of movement around me. These don't press against your eyes which I find super irritating.
---
---
Pillows and mattress – for my birthday last year, we invested in proper mattresses at home, and finding the right pillow for you is a journey worth exploring. It totally depends if you sleep on your back, your side or your belly, and you should have a pillow that supports you adequately. We got to try and take home a bunch of pillows from Finnish brand Familon – and I since completely fell in love with my new pillow that's also great at managing temperature.
What to wear – I LOVE pyjamas! Personally, I sleep best with covered shoulders at any time of year, but during the colder months especially I am very much into having a wide selection of sleepwear. My recent favourite is this dotted number by local brand Nanso. Whatever you feel most comfortable in, it is worth investing in. I used to only sleep in old t-shirts and ripped leggings, but I definitely feel a nice pyjama has added positively to the whole sleeping experience – and it's solely for sleeping.
Easing into the night and falling asleep – my recent hack for slowing drifting off into a good nights sleep is listening to children's audiobooks. I have rediscovered some books I read as a child or teenager and got the audiobook versions. I start listening about half an hour before going to bed and then put on the sleep timer for another 15 minutes. I haven't slept this well in ages.
Screen time – pretty much every article on sleep will mention screen time and your phone. While I agree, that we all should generally use the phone less, I still use it by my bedside to watch cooking videos on mute (it's a thing for me to get sleepy) or to have my audio book on. Whatever feels best for you, using the night shift function on phones that reduce the blue light is surely helpful.
---
---
Combat anxiety – especially in times of uncertainty that bring many thoughts along, I've had issues to fall asleep because my mind just went absolutely wild the second I closed my eyes. As an outlet for those thoughts, I recommend to have a little notebook next to your bed, and if your mind keeps you aware, jot it down. Also fun for remembering your dreams!
Bedside essentials – wherever I sleep, I need a bunch of things by my side or I will get nervous! For me, those are: tissues, lip balm and a bottle of water.
Tracking – I use the Nokia/Withings Steel HR smartwatch, which has a sleep tracking function, too. While I'm aware that this is not a super scientific piece of equipment, it does give me a rough idea of how much I slept which I find really interesting. How much is your sleep affected by different environmental factors, what you eat or when you exercise, after a stressful day or a relaxing evening. It's interesting and does give some insight – but is also to be taken with a grain of salt.
Sleeping helpers – any kind of medication that might influence your sleep, is something you should check in with a doctor about. In Finland, many resort to Melatonin, and many I know use some kind of sleep medication – or just a natural sleeping aid. If you really have sleeping issues, it is something to consider, but under supervision. Also, check if any medication you're taking on a regular basis affects your sleep in some way.
---
---
Duration – of course, this is different for everybody. The common saying that you should get your eight hours of sleep might now work for you at all, and here again, it's important to listen to your body and find your natural rhythm. For me, I sleep best between 7 and 8 hours.
Waking up – a good night's sleep obviously ends with a healthy waking up. The best way for the body and mind is to wake up naturally, and this is easiest achieved with light. My daylight alarm clock was a great investment, it wakes me up softly – ideally, you can enjoy the sunrise from large, bright windows – but depending on the season that's either happening too late or too early!
Coffee & Breakfast – I always start my day with a nice cup of coffee, and then it takes me an hour to wake up enough to be able to eat. But breakfast, oh it's definitely become a highlight of my days, especially on weekends and mainly in hotels – I live for a hotel breakfast. Room service is the ultimate luxury to me, and it's a very rare treat – but always so worth it! There is no right or wrong when it comes to this, don't force yourself to be a breakfast person if you're not it.
---
Remember – whatever works for you is great. Something like sleep and routine is very subjective. Don't compare yourself to others, simply do what feels right, and healthy – but finding ideas and inspiration from others might be helpful. Challenge your own patterns if whatever you're doing right now isn't working for you. Sleep is too important to compromise on! And maybe a treat away in a fancy hotel at some point is just gonna be the icing on the cake.

How do you sleep? Do you have any tips you'd like to add to this? Share in a comment!