Join me for a hike in Åland!
Last autumn, I did my first multi-day hike of the St. Olav Waterway – together with my friend Rania, we completed the first section of this pilgrimage trail from Turku to Korppoo. Now it was time for the second part: continuing from the edge of the Finnish archipelago to the Åland Islands! And what a beautiful trip it was: in the most perfect Finnish summer, this time with my friend Eva, we hiked for a few days amidst the rugged and wild beauty of Åland – spectacular views, the scent of strawberries in the air, ferry rides, wild trails through the forest and along the rocky shores – it was truly the most stunning part of the trail so far!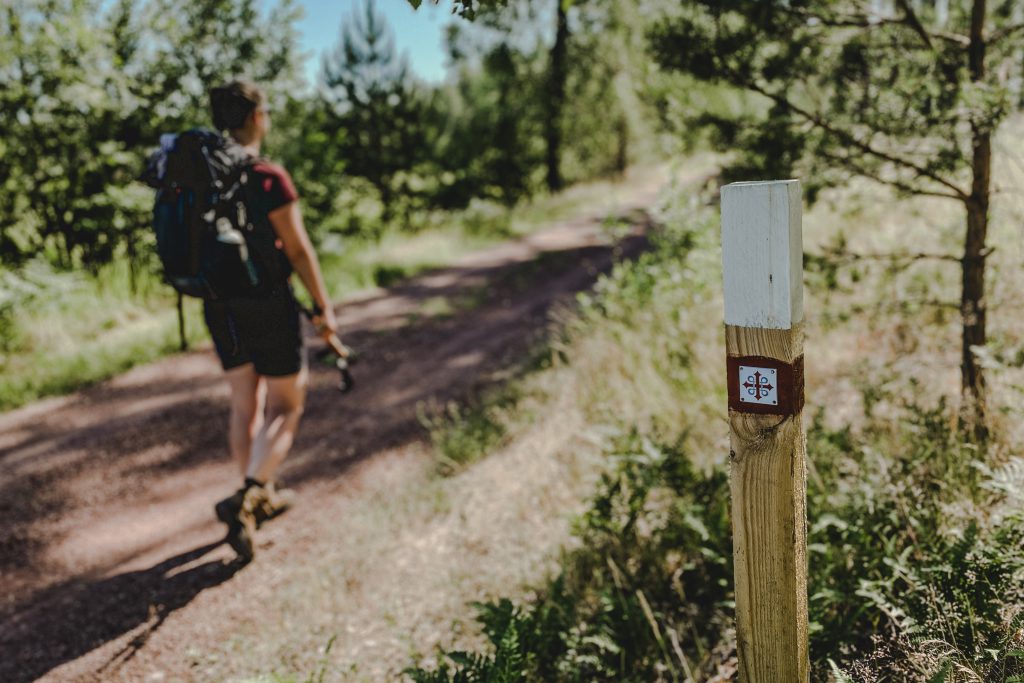 ---
*this is a paid collaboration with Visit Åland*
---
PREPARATION AND PLANNING TO HIKE THE ST. OLAV TRAIL ON THE ÅLAND ISLANDS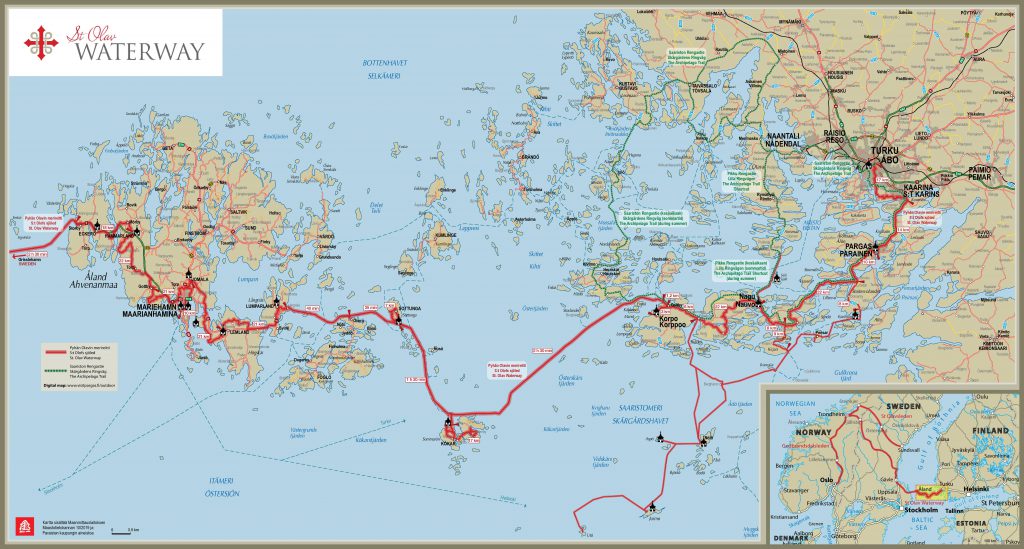 ---
Basic info
Starting point: Korppoo / Kökar
Ending in: Mariehamn / Turku
Duration: 4 days / max. 20km per day
Premise: no camping, shorter distance
About the destination:

Åland is an autonomous region of Finland
The main language is actually Swedish, though
The area is made up of 6,500 skerries and islands
The Capital city is Mariehamn
Ferries go year-round from/to Helsinki and Turku to the Capital

(note: 2020 is different because of you-know-what, so make sure your research is up-to-date.)
Planning the trail is a little trickier than in the Finnish archipelago, as there are fewer accommodation options, especially out in the far ends of the Åland Islands. We were a bit limited in time, so we decided to spend a bit more time out in the further islands of Kökar and Sottunga, and explore as much as we could in those days. A lot of the journey is done with the ferries, which takes quite a bit of time, but secretly was kinda my favourite part of the trip.
---
Some tips for planning your trip
Working with the maps here is always helpful: set your daily distance and plan around what you feel comfortable walking every day
especially in the part in Åland, plan around your accommodation. Unless you are camping, take note of the options around
Take note of the ferry schedules – especially further out in the sea, the ferries don't go all that often. All info here on Ålandstrafiken
Consider the weather carefully – in the glaring heat of the summer, we decided to walk shorter distances
---
My personal gear tips
Hydration: this was my biggest question mark – I knew I needed at least 2l of water for the day (I knew I'd be able to refill along the way), but I didn't necessarily want to buy yet another water bottle – so after lots of conversation and research, I decided to buy the Osprey hydraulics water reservoir – which is basically a water bladder that fits flat in your backpack, and a little hose and mouthpiece lead out of it, and attaches to your backpack straps – so you can easily sip on your water all the time. I was pretty sceptical, but I'm really happy I got it. It would have been the same price to buy 2 more proper bottles.
Shoes: another thing I thought about lots! I am a sweaty lady and wanted to avoid hiking in the heat in my thick hiking boots, that I wear in the autumn and winter. I was planning to go with this light and open hiking shoe by Keen, but it didn't arrive in time. In the end, I got the Teva Terra-Fi trekking sandals – and while the sole was super comfortable, my feet did suffer from pressure points from the straps quite a bit, so a point when I decided to wear them with socks. Not a look I'd recommend, but it helped a ton. Comfort over all! For lounging about, there's nothing better than the light, waterproof and comfy Birkenstock Eva's.
Take a hat! I wore mine tons.
I too this Ultrasun 50+ sunscreen combination for the face, which includes a lip balm. Highly recommended.
Materials: it seems counterintuitive, but merino wool shirts are the way to go for me, it's light and breathable, odour-resisting (I only aired the shirt out overnight and it was fresh by morning) and is also a natural UV barrier. For the evenings I had this merino jumpsuit to lounge about in, and I am so pleased with this purchase.
---
---
TRAVELOGUE OF OUR HIKE – ST. OLAV TRAIL ON THE ÅLAND ISLANDS
---
DAY 1: HELSINKI – KÖKAR
Helsinki – Turku: by train – 8:37 – 10:41
Turku – Galtby harbour: by bus – 11:15 – 13:05
Galtby harbour – Kökar island: by ferry – 15:30 – 18:00
Accommodation: Sandvik Resort
The trip itinerary of the first day may seem a bit long and daunting, but honestly – the journey is the destination here. The train ride from Helsinki to former Capital Turku passes so quickly, and taking the bus out to the archipelago is just a wonderful drive, that is so scenic and relaxing – you get that magical first ferry ride – that you immediately feel like you're on holiday.
My hiking companion Eva had completed the Finnish part of the trail during the days before we met at Galtby. We met at the ferry harbour, where we had a bit of time before taking the ferry – which was intentional – technically you can plan your bus arrival just in time to get on the ferry. The ferry trip takes a couple of hours, the sea is calming and beautiful, and the arrival at the rugged and rocky island was a moment of pure happiness for me!
We walked ca. 4km to our accommodation for the next two nights, Sandvik resort. There are a couple of options in the area, we opted for the seaside resort and a private, basic cottage. Now, note that your understanding of a resort might be different in Finland: we're talking cottages, camping, a café – all with shared bathrooms and kitchen. No luxury accommodation here. But just perfect for us. Our cottage had all we needed (beds and a fridge), and enough space for both of us to get comfortable.
We enjoyed our first dinner with an alcohol-free beer on the beautiful café terrace, and I have to say, the fish & chips and the salad with their homemade ramsons dressing were an absolutely positive surprise. The staff is friendly, down to earth and a bunch of typical islanders. It was wonderful. A walk in the never-ending sunset was just the perfect ending to our first day of the trip.
---
DAY 2: KÖKAR & SOTTUNGA
Kalen trail: 8 km
Sottunga trail: 9km
Accommodation: Sandvik Resort
While the sea was still pretty chilly this far out, a morning swim was just as refreshing as it was terrifying. It took a lot of swearing to eventually enjoy it, and definitely made us feel like we deserved that breakfast! We decided to rent bikes for the day to help us make the best of this one whole day we had to explore some of Kökar, and also Sottunga island.

For a morning hike along the West side of Kökar, we biked for about 3km, dropped off the bikes and hiked through some deep forest, to those rocky shorelines. You can read more about the Kalen trail here – which isn't technically part of the St. Olav trail, but one of the most beautiful hiking paths on the island and our best option to see the best in the limited time.
This trail was surprisingly demanding but got us both woken up and tired enough, in time for a nice and long ferry ride. With the bikes, we headed back the 5-ish km to the ferry harbour we also arrived at, just in time to hop on the ferry to Sottunga, which is Ålands smallest municipality.
After a highly recommended lunch at the Salteriet restaurant (well known for their fish and their Schnitzel, of all things), we went for a stroll towards the town centre, collecting out passport stamp on the way, to take a look at the local shop before we continued to the St. Olav trail. I didn't really know what to expect, but the Sottunga trail is not only marked exceptionally well, but it's also purely spectacular: even more demanding than the morning trail we did, with quite a bit of height difference and all done in the glaring summer heat of the afternoon.
Of all the Åland hikes, this was my favourite.
---
The ferry trip back to Kökar was a welcome break! The hiking in the heat definitely took its toll on energy levels, and we were so happy to have the bikes for the trip back to Sandvik! We made a little detour to the church of Kökar for another stamp in our pilgrim passport, and then got a proper reward to end the day at Sandvik: a swim, home-made munkki, local strawberries and a cold drink. That's the life.
---
DAY 3: FROM KÖKAR TO LUMPARLAND
Total walking: 10km
Accommodation: Amalia's B&B
This would be our second and last full day already, and it would take us from the wild island of Kökar to the Mainland of Åland. The last day was pretty exhausting, a lot of demanding walking in the heat definitely drains you! So we started with a slow morning, with another wonderful swim and breakfast, and listening to our audiobooks by the rocks looking at the sea. Around 11, we began the walk with the hike back to the ferry, and continuing onwards with the same ferry from the previous day, but on to Lumparland.
The first part of the hike from the harbour to our accommodation for the night was surprisingly calm and nice, along a nice and cool forest road where we met sheep friends and had a little ice-cream break along the way. Further on, the trail continued along the side of the road which wasn't that pleasant, especially because it was absolutely boiling with no shade, which can make 7km feel like an eternity. But we took it easy and each went at our speed (meaning, I was like 2km behind taking shadow breaks in the forest and Eva having a grand time talking to cows), listened to our podcast and music, before we made it to Amalia's – a beautiful little B&B, next to their own lemonade factory. We had an epic shower, followed by dinner in the garden and an early night.
Thank you Eva for sharing your mushy kitkats with me! That's true friendship.
---
DAY 4: LEMLAND TO HELSINKI
Since today's walk would have been another 10km by the side of the motorway, and it was already 25°C at 9 in the morning, we made the executive decision to take up the opportunity of a ride that was offered. It would be a long way all the way back to Helsinki, so it sounded like a good idea to not be already totally exhausted by the time we'd reach our first stop.
---
We were kindly invited to visit the Open Water Brewery, one of two local breweries on the Åland Islands. Run by a couple of friends who are beer and cider enthusiasts, they decided to make their hobby into a business as well. Small batches of local beers and cider made from local apple juice, it's truly a local gem! We got a little introduction to their products and the brewery, and bought some treats to take home – already looking forward to enjoying their summer beer Nelson on my terrace at home!
---
From here, we continued towards our last stop – Mariehamn. We hopped into the Maritime museum for a quick visit, which is right next to the ferry harbour. In usual times, the ferry from Stockholm to Helsinki stops in Mariehamn on its way, and you can get straight back to the Capital from here. We had to opt for the detour through Turku again, and then would jump on a train to Helsinki from there. Tallink Silja operates at a normal schedule on their route from Mariehamn to Turku, and with several restaurants and deck space, there is plenty of room for everyone to keep a safe distance, and there is always the option to book a cabin if you want to be extra cautious. The journey takes a good 6 hours, but it's full of a spectacular scenery, especially going out of Mariehamn passing Kobba Klintar – a truly magical place.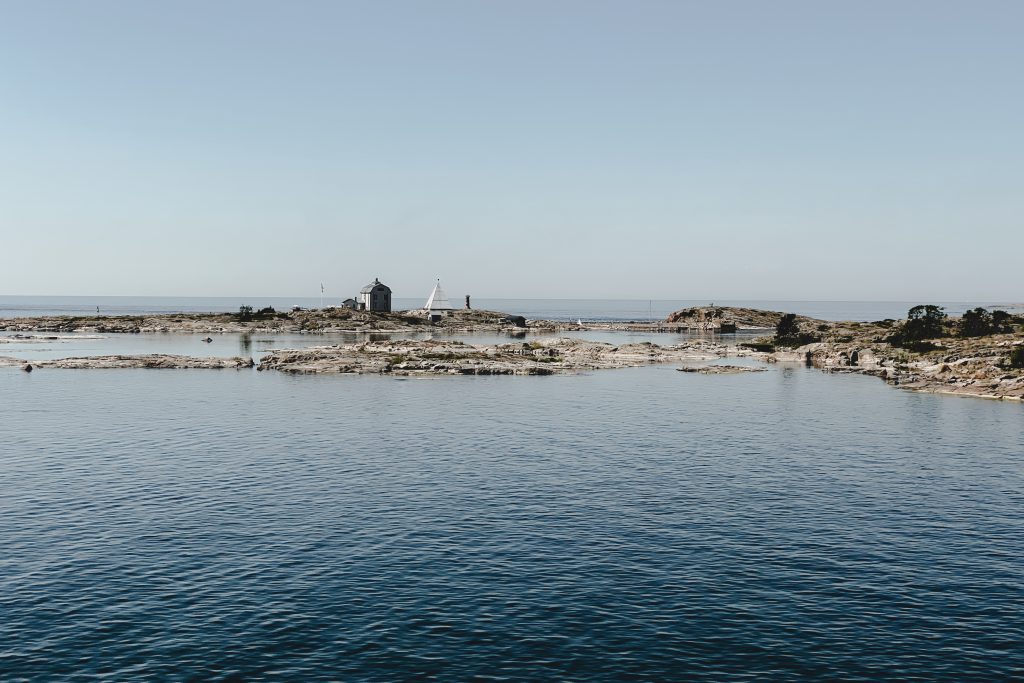 It was a lovely and calm way to end our short trip to the Åland Islands, and I couldn't recommend it more! The St. Olav trail takes you along some of the most stunning places in the Finnish Archipelago and Åland! I'd, of course, stay longer and see more – but even a short trip is absolutely worth your while! A hike in Åland is one of the best ways to spend your summer!
More about the Åland Islands and hiking here: