---
Who doesn't love breakfast? Helsinki has a bunch of just delicious breakfast cafés all around town, so make your pick! I'm more of a savoury kind of breakfast gal, so you can always win me over with good break, well-prepared eggs and of course – strong coffee. Any of these categories are of course somewhat interchangeable – some listed for breakfast also have great bread to take home, and the other way around!
---
Need more Foodie inspiration? Check out my Helsinki Restaurant Guide!
---
12x Helsinki Breakfast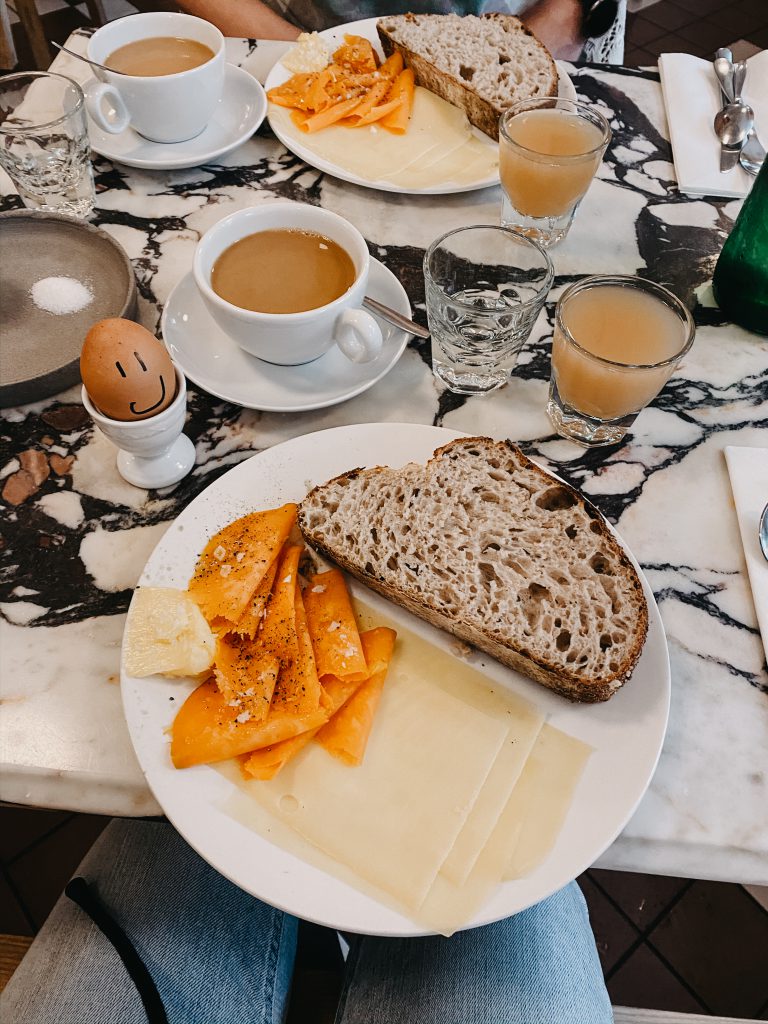 Way: arguably one of the best and happiest breakfasts in town. The sourdough bread is everything.
Levain: high-quality delicious breakfast options, great bread as well. I recommend a savoury dish of your choice but then a waffle to share. Also great breads to take home.
We Got This: lovely service, great coffee and some of the best Karelian pies I've had.
Green Hippo Café: lush and colourful breakfasts, their avocado toast is delicious and the summer terrace is gorgeous.
Flät 14: loving the concept of several smaller dishes combines to the perfect breakfast menu!
Story: an extensive breakfast menu with both sweet and savoury options, that's great to enjoy in either the old market hall or overlooking the city in Kamppi mall.
Kuuma: good choice for a healthy, pretty Helsinki breakfast in the city centre.
Tin Tin Tango: a classic place for breakfast – French-inspired café that takes you on a little trip to Central Europe for sure – and you can do your laundry while you're there, too.
Gastro Café Kallio: all-day breakfast, with delicious and hearty dishes (excuse me, the cheese sandwich with rhubarb chutney!?).
Green Hippo Café: a new classic in town, delightful breakfast options, and their version of avocado toast makes it taste as you've never had it before.
Tanner: beautiful grand location and an extensive breakfast menu that's ideal to start your day.
IPI Kulma Kuppila: another Helsinki breakfast classic, lovely bright space, good coffee and a simple breakfast that's always good
---
14x Helsinki Cafés & Bakeries
Coming from Central Europe, bread and pastries are my weakness – there is nothing that makes me happier than a buttery croissant, or a loaf of crusty bread. Luckily, the last years have brought us some amazing places to enjoy baked goods.
---
---
St. George Bakery: for me personally – the best bread in town (the dark Levain!), and a lovely breakfast offer. Great pastries too.
Signora Delizia: seriously excellent coffee and sassy Italian vibes that make every day a good day. Also a lovely outdoor kiosk in the summertime.
Greenbake: their Pain au chocolate is the closest I have found to what I enjoy at home in Luxembourg. It's my favourite place for pastries and I am here all the time.
Robert's Café Jugend: in this absolutely gorgeous venue, you can enjoy a nice cup of coffee – and their delicious ice-cream.
Sävy: some of the best coffee you can find in the city, definitely worth going out of your way for.
Café Succès: their cinnamon buns are the best in town. There. I said it. Comes with French flair and a charming street terrace in summer.
Helkatti Cat Café: before we got our cat at home, the cat café was my dream place. Coffee and cat cuddles, what more can you ask for. Book a time beforehand!
Le Grenier: little French bakery and café a bit out of the centre, but worth a trip to have the a great croissant.
Paulig Kulma: great coffee and cosy nooks with city views right in the centre.
Cafetoria: great coffee, knowledgeable and friendly service to help you find the best coffee for you!
Birgitta: beautiful summer season seaside café with great coffee and views. (closed for the winter season now)
Regatta: a true classic that will never disappoint you with its cinnamon buns and seaside flair.
Andante: some of the best speciality coffee in the city, lovely location and just always a positive experience. If you can snatch one of the croissants – do it.
Kaffa Roastery: lovely local roastery and coffee shop – great vibes and staff.
Relove: second-hand shop and café in one, cosy atmosphere, great coffee and sweet treats.
Kaffecentralen: the coffee specialists in town, lovely service and coffee on site. Also all coffee equipment you could dream of.
---