If you are self-employed and running a one-woman show most of the time, the question of where you actually work is a big one. Work from home, rent an office, work from libraries or cafés? There are plenty of possibilities, but which is the right one is a very subjective thing. I'll explore a bunch of different opportunities, starting with the co-working office SPACES.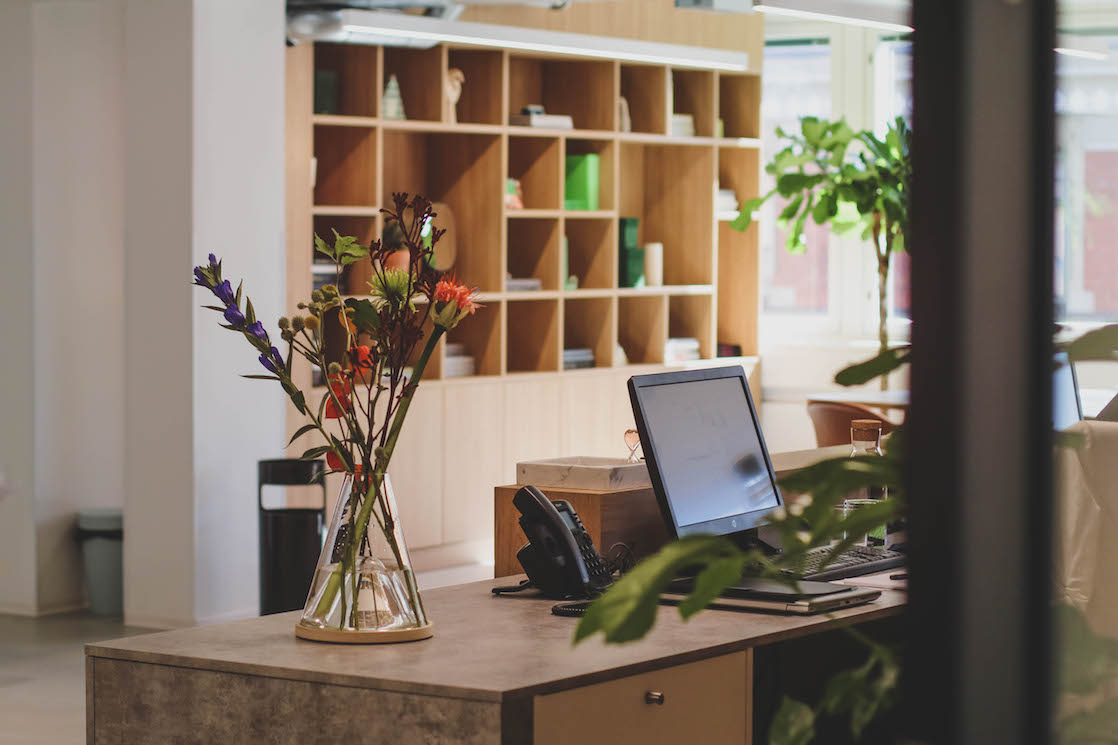 Why co-working anyway?
Co-working spaces are definitely a thing for the modern entrepreneur, not only the services, the locations and the option to book meetings are essential for a professional representation of your business. I also find the aspect of being amongst other people workspacesvital, because working for yourself can get lonely sometimes. To meet other people at co-working spaces adds a networking aspect to co-working that's usually super interesting!
Keeping it professional
SPACES have a bunch of locations around Helsinki, with their office on Bulevardi (just upstairs from Maistraatti) having opened just in August. The modern design is both functional as well as inviting, I especially like the different work spaces you can choose from. As a flexible co-working member, you can choose either a "proper" desk to work from, with super comfy actual office chairs, or check in one of the little bench nooks which are my personal favourite, so you'll find me here unless someone snatched it from me. Call incoming? There are dedicated rooms for taking conference calls or longer conversations so you don't disturb the other people. I'm also a big fan of the big wooden co-working tables that just make me want to bring all my work friends here for a productive afternoon, and if you need some privacy you can rent additional meeting rooms. 
What else? Coffee and the perfect location.
The coffee machine is my best friend. Kaffa Roastery brings in fresh beans on a weekly basis, my go-to is the Americano with a bit of milk, but also the Nordic T tea selection is my favourite – so fancy! Definitely keeps you going. The office vibes are something that are strangely motivating to me, whenever I am here I get so much more done than at home. And the location allows me to drop in whenever I have a couple of hours to fill in between meetings as well. Working from cafés is wonderful if you can spare a bit of focus and have something casual to do, but to really get down to business, I prefer some reliable quiet time. The outside world can be awfully loud and busy, especially during lunchtime. 
Speaking of which, one of my favourite places in Helsinki for food in general is the market hall in Hietalahti, and that's only 2 minutes away with countless options for food.
To have some kind of office space available to me is absolutely essential for me at this point. I love quiet home office mornings in my sweatpants, especially with the fridge a few steps away and mainly for when I have longer calls scheduled, so I don't feel like I'm either disturbing anyone or blocking the phone rooms. Even though SPACES kindly let me use their new space for this month, I objectively have to say that it is one of the workspaces spaces in the best location (or, both locations actually). The staff is super friendly and helpful with any request or issue you may have, and it's absolutely brand new and there is plenty of room for new entrepreneurs and companies to move in.
One of their other SPACES is in Postitalo next to the Rajala camera shop, which has more of an open office vibe to it which I also love. Those armchairs with an integrated laptop desk!? I'll have one at home please. 
There are several international locations around the world that are also accessible for members in other locations. Check out the website for more information! Getting to the Bulevardi location is awfully easy, several busses and trams stop nearby, city bikes stations are not far either and everything in Helsinki is a village anyway, so just walking is fine as well. 
Also important for us who roam around and travel much: agreements are totally flexible if need be, from yearly contracts to day passes, you can choose the exact type of office arrangement for you, and you don't have to become a member to work at SPACES.
My favourite model is the 5 or 10 days a month plan, which allows you to schedule one or two office days per week, which is absolutely perfect. Have one super productive getting-shit-done-at-the-office-day, and schedule meetings and everything else around it. 
Is it worth it?
Co-working spaces aren't a budget option, but I feel like it's an investment that pays back in productivity easily. Services like the great coffee and tea, printing and all that make the working experience smooth and easier, and also you're well less likely to procrastinate because you don't want to waste your time at a place that buzzing with work vibes and that's a true inspiration thanks to the crowd. 
Pricing Models at SPACES Bulevardi
Membership full-month: access during opening hours (Mon-Fri 8.30-16.30 )
Flexible, month-to-month agreement 231€/month+VAT
12-month fixed term 219€/month+VAT
24-month fixed term 207€/month+VAT
Coworking with part-time access 5x month
Rolling month-to-month agreement 94€/month+VAT
12-months fixed term 89€/month+VAT
24-months fixed term 84€/month+VAT
Coworking with part-time access 10x month
Rolling month-to-month agreement 136€/month+VAT
12-months fixed term 129€/month+VAT
24-months fixed term 122€/month+VAT
Business club can be accessed with daily price of 40€+VAT or hourly price of 10€+VAT


Thank you to SPACESWORKS for supporting this post!