---
Why Everyone Should visit Koli
---
Koli National Park is one of the most famous ones in Finland, and there's no question about why that is. The highest peaks of Southern Finland that lie in the park, give you the most breathtaking views of Lake Pielinen below, which is a unique sight. This one-of-a-kind experience is something that everyone should experience – I've wanted to visit this area during the bright autumn colour season, and I wasn't disappointed. In fact, I already booked my next trip for a summer visit!
---
 

 

View this post on Instagram

 
---
Tips for and facts about your visit to Koli National Park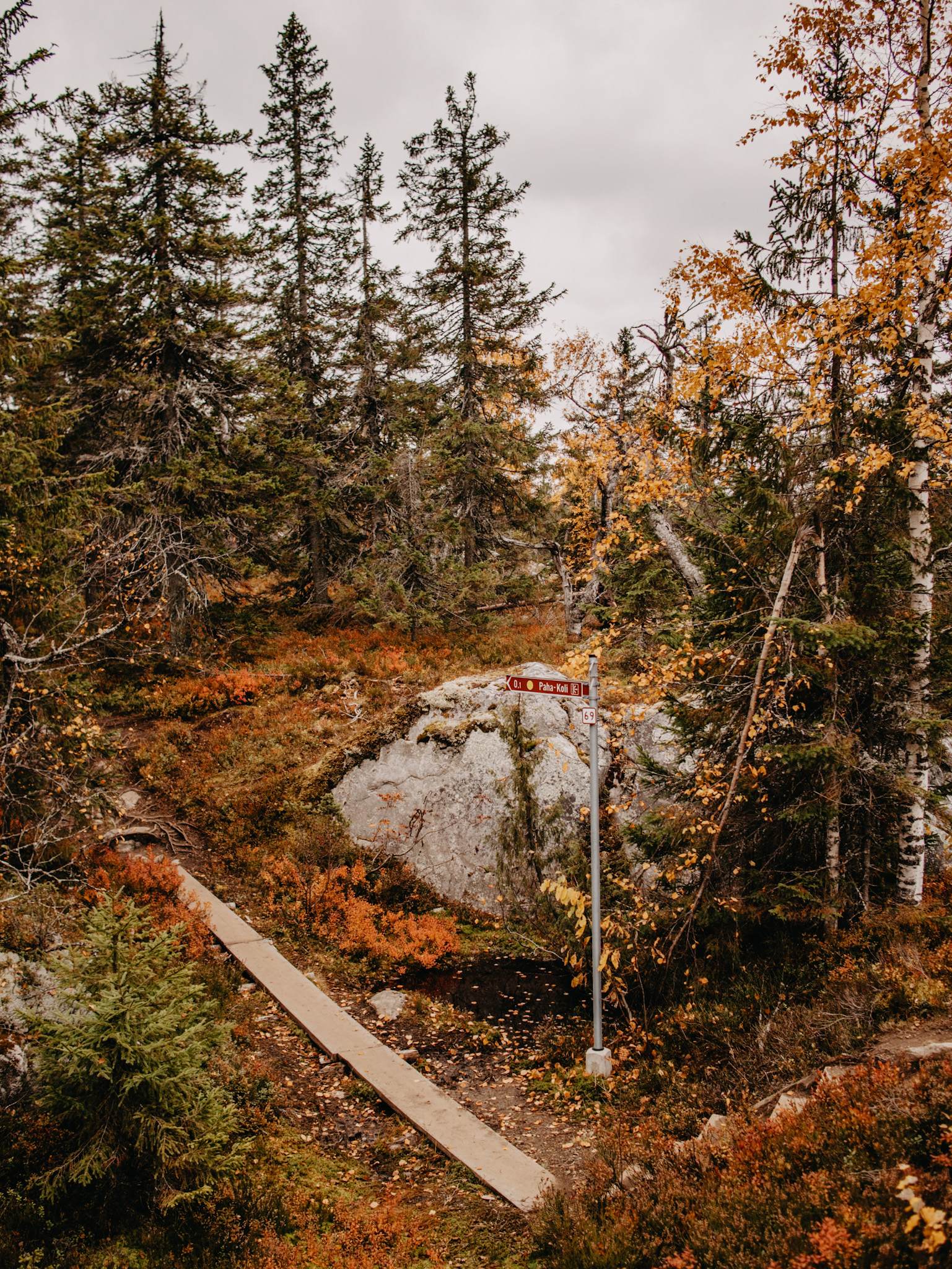 ✖️ Ukko-Koli is the highest point in Southern Finland – with 347 metres above sea level
✖️ These famous and most amazing views are from the Ukko-Koli, Akka-Koli, Paha-Koli hilltops
✖️ The hike is actually really easy. You can drive most of the way up the hill, take an elevator up to the plateau and from there it's only a 1,4 km walk to see the 3 main peaks
✖️ We visited during the week and in the afternoon on a grey day, and it was already quite busy. If you can, I would try to avoid weekends during the day because I can't even imagine how many people will be there. For a reason, obviously
✖️ The views go out towards the East, calling for epic sunrise moments!
✖️Take more time than you'd think! The views are just too amazing, and you will want to spend a lot of time. We spent 3 hours just at the main peaks without even properly hiking anywhere and it wasn't nearly enough time to take it all in properly
✖️ Additionally, at the Nature Center Ukko you can learn about the local geology and get all the tips and advice for your hike
✖️ Next time (yes, my next visit is already booked) I want to hike to the Mäkrä hilltop, which is a 7 km trail, and has possibly even more amazing views, I'm told. Check out more about what to do at Koli National Park here.
✖️ Koli is easiest reached by car. You can also take a train to Joensuu and continue by bus or taxi. Read more here.
✖️ Painter Eero Järnefelts famous piece of this view, "Maisema Kolilta" from 1928, was used in some of the first tourism ads for Finland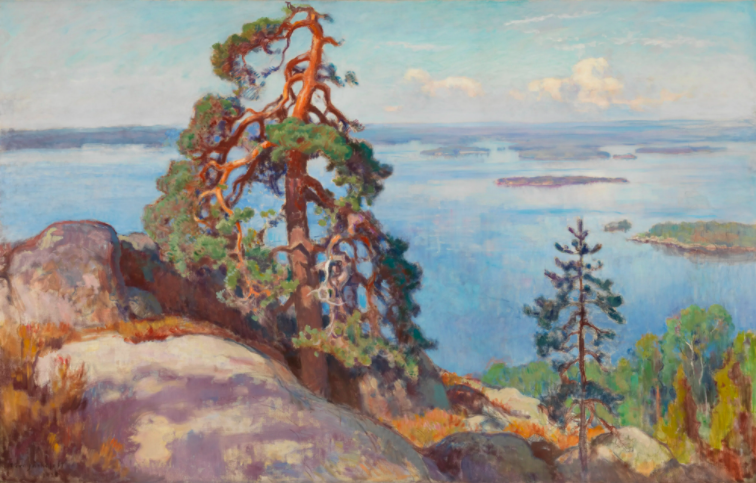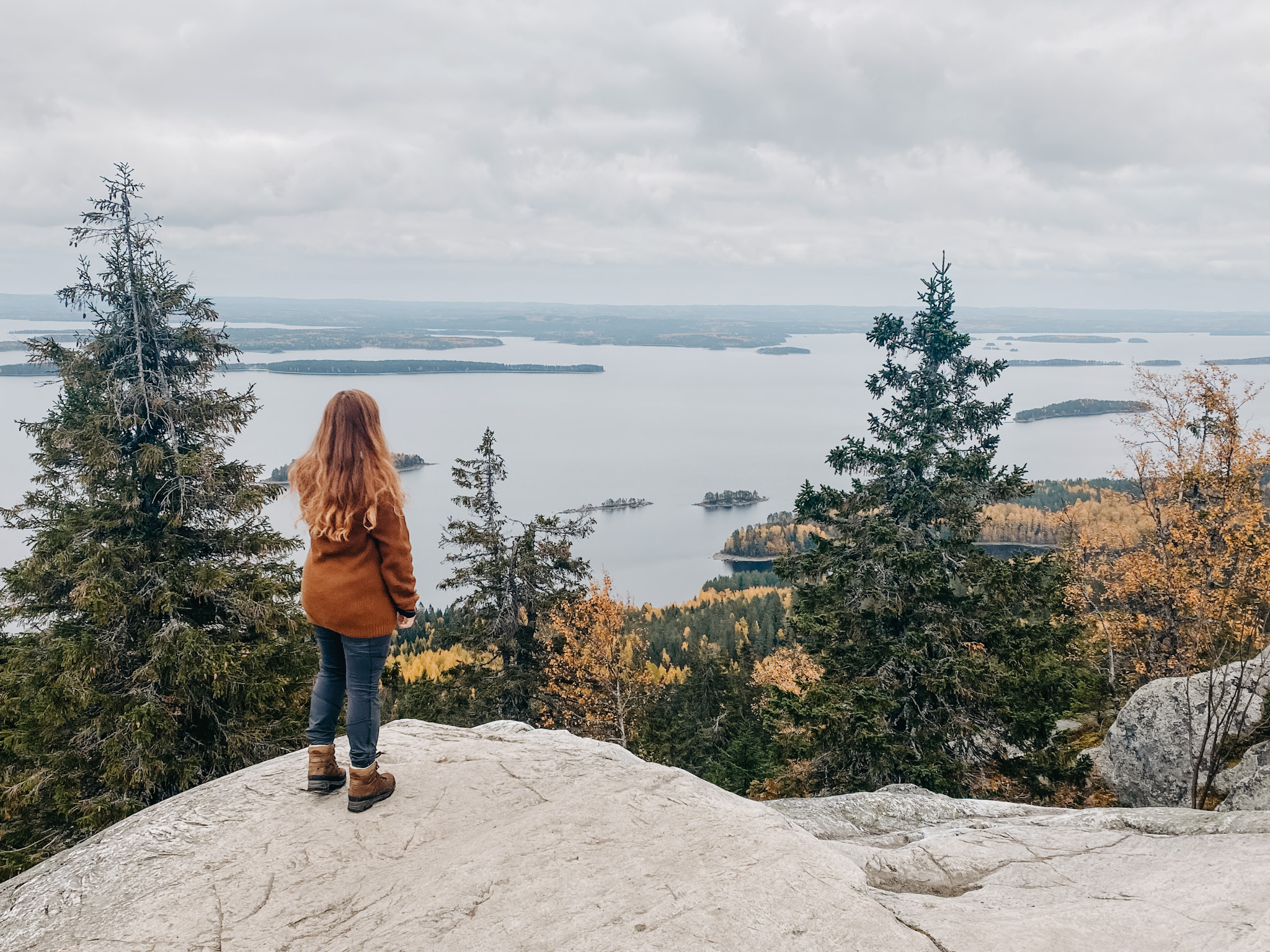 ---
Where to Stay when visiting the Koli National Park
Break Sokos Hotel Bomba – A Karelian Culture Experience*
*our visit to Break Sokos Hotel Bomba was part of a commercial collaboration, however this post is not part of it
The Break Sokos Hotel Bomba hotel lies about an hour North of Koli. The Break Sokos Hotel Koli on the top of the hills in the National Park is a luxury option for those who really want to be in the heart of the action, where it can be quite busy. Bomba is near the village of Nurmes at the very North point of the Pielinen Lake, and a true oasis of relaxation and culture.
Nearby you can visit the Bomba House, which showcases Karelian culture and history. You can visit an exhibition and learn all about the heritage, shop for local handicrafts and souvenirs. Everyone for sure has come across the Karelian pies in Finland that are from this region, so how about picking up a traditional rolling pin to make them yourself at home?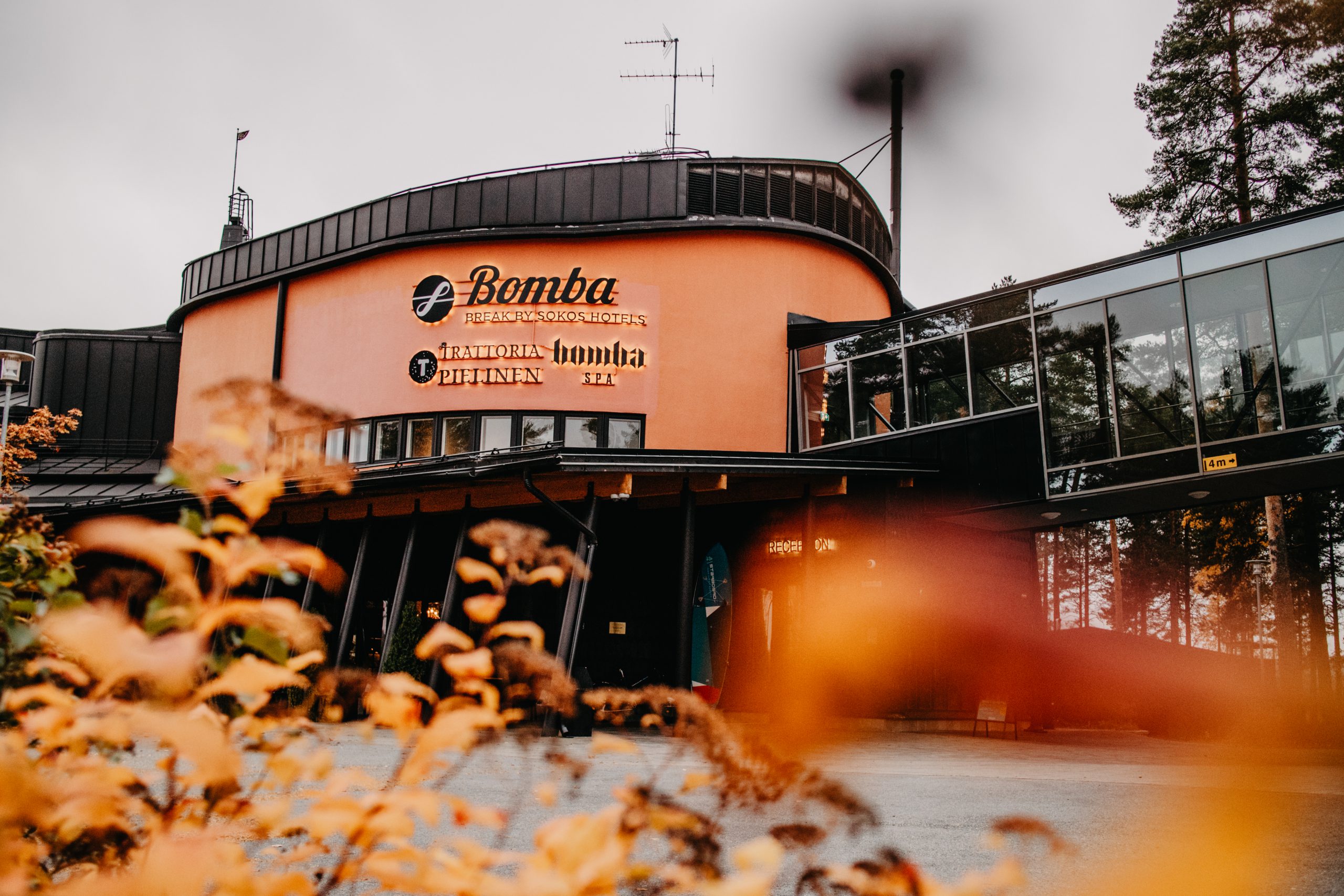 ---
Relax in the Bomba Spa
The Bomba Spa is just fantastic, what can I say. Especially when it turns dark outside and the Northern Lights coloured ambience comes out, it is a really moody and special experience. Particularly amazing is the outdoor jacuzzi with the lake view. There are different saunas, steam bath and shower experiences, a hot-and-cold-bath (my favourite) and the beautiful pool. You can also visit the Bomba spa without staying at the hotel.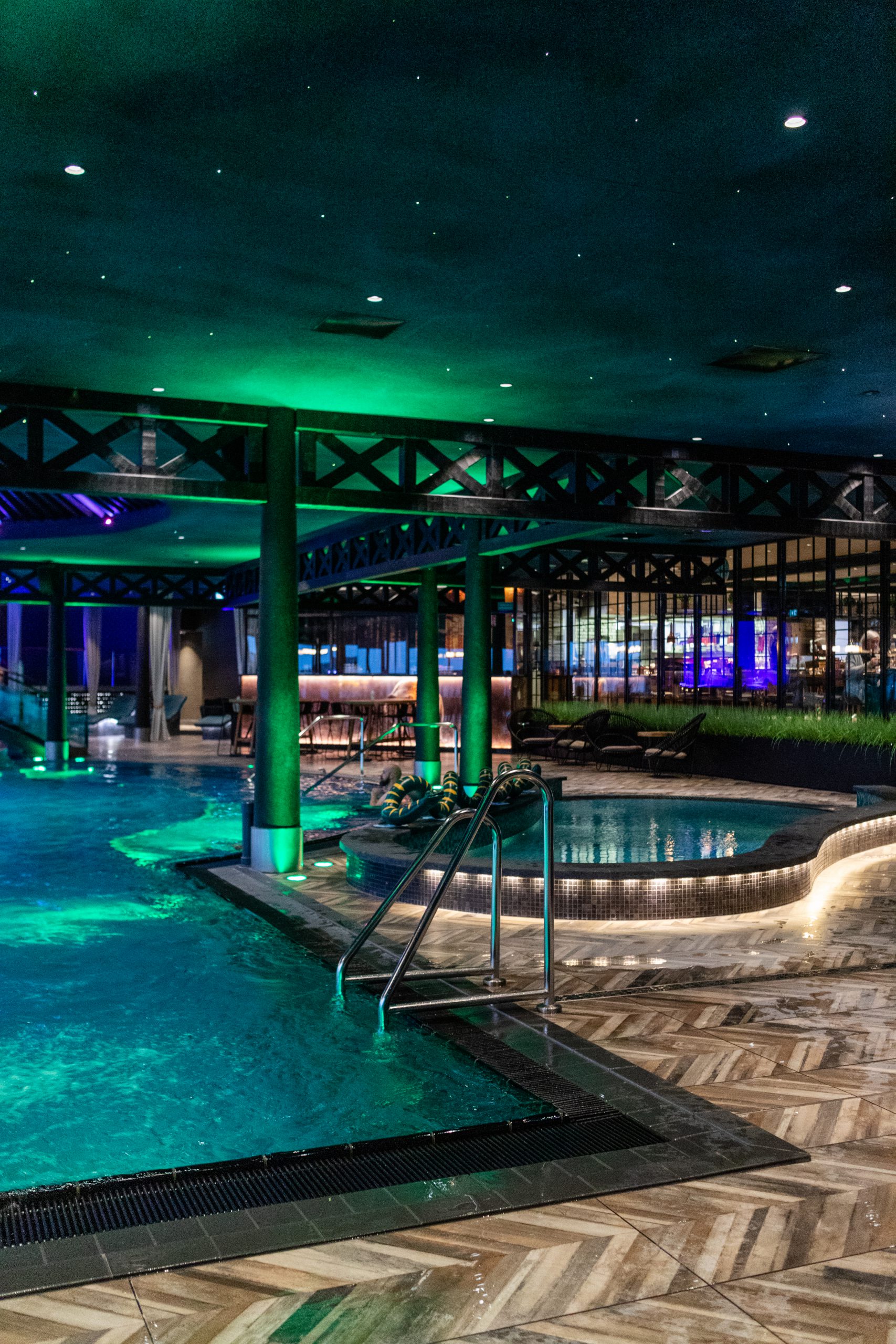 ---
A Dinner treat
After a long day out in nature, an Italian dinner at Trattoria Pielinen at the hotel is a lovely idea. We particularly enjoyed the very lovely service and the fantastic porcini soup! The view of the restaurant goes out to the spa, without feeling intrusive at all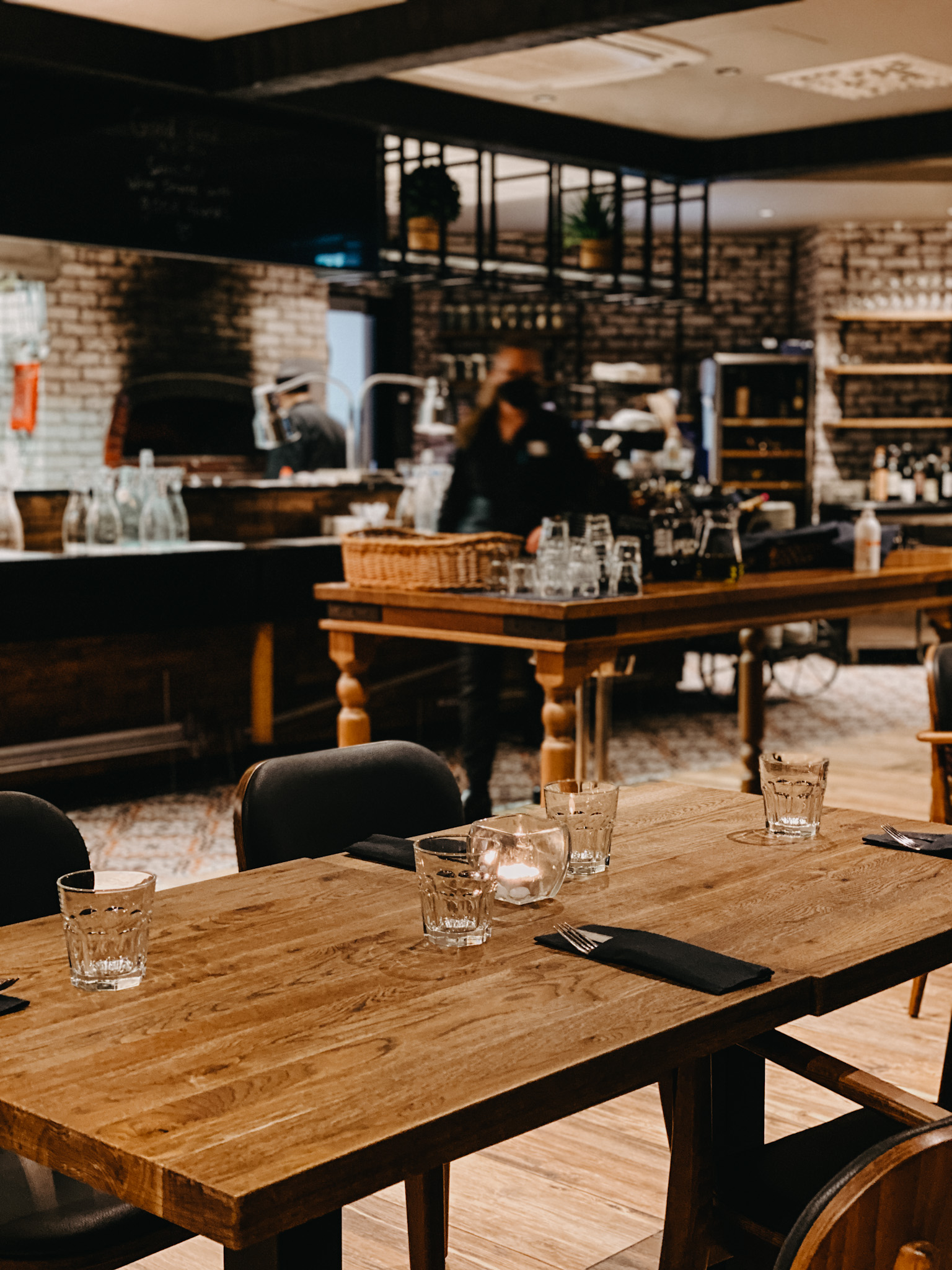 ---