Second Hand shopping in Finland is super popular and a lot of fun! It's been great to see the second cycle movement grow stronger. In Finland, the recycling culture has always been active and present, and it shows from the re-use mentality in any kind of consumer goods all the way to repurposing buildings rather than new construction. Second-hand shopping is widely popular and encouraged, and possible both online or offline in stores. Here are my favourite tips for second-hand shopping in Helsinki, both in-store and online.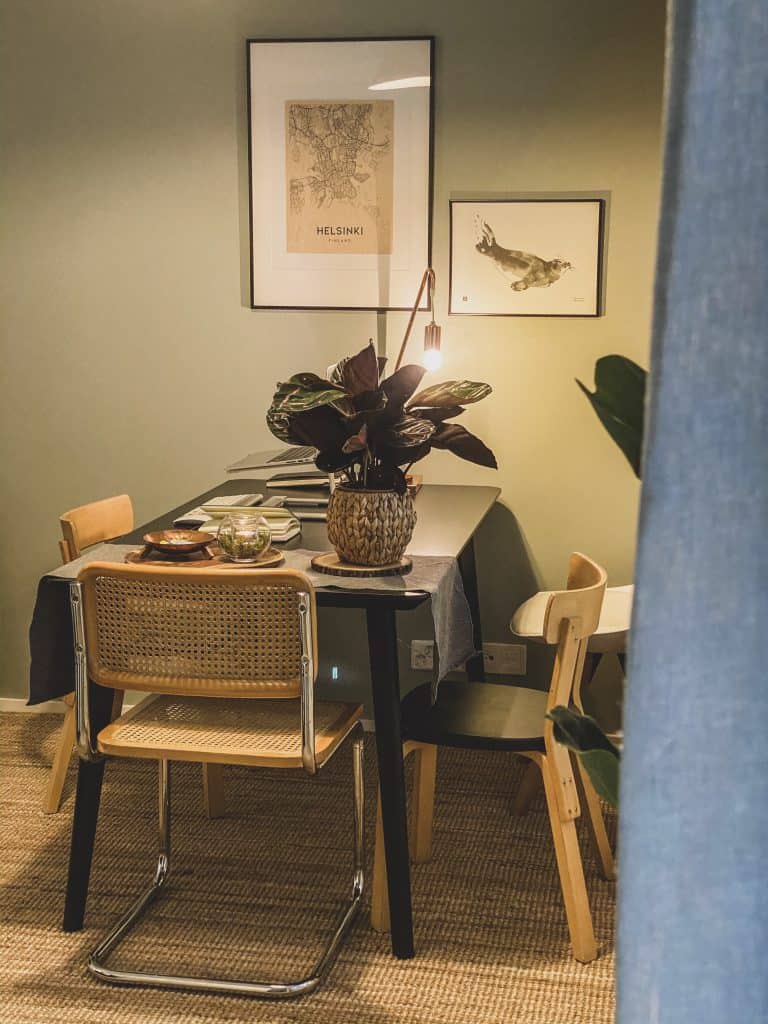 Introduction
I've always enjoyed browsing flea markets and second-hand shops, but especially in the last two years and now recently when we moved into our first own apartment, I've really put a lot of time and effort into both selling things and finding new bits used.
Christmas is upon us in a good month, so it's time to give the whole gift-giving a think. While many of us, myself included, are starting to move away from the thought of gifting random material items, I've started to put more thought in the presents I give. For many of my friends especially, I don't give anything at given times, but rather buy something that I see as perfect for them whenever it happens to come along!
Tori.fi has selected 3 top used gift ideas, which are Arabia items (I love all the mugs, tea- and coffee ware), Kalevala jewelry (check out the Lumikukka line with which you basically can't go wrong) or as top pick the classic Artek stool – I would recommend checking out their prints for a more affordable option.
---
Tips for Second Hand Shopping ONLINE
Look for specific things: most of the times when I see an item I want to buy, I search on all those online platforms for exactly that. An item of clothing in a specific colour or size, or even material; the exact model of the chair, aside from just mentioning the type of item or brand. You'd be surprised how much this helps your search results.
Search your radius: sometimes I forgot to set my search radius accordingly and was then disappointed when my glorious find ended up being in Oulu or something. Be realistic with where you search, depending on your options you might be able to pick your things up with public transport, or you might have have to get a car.
Area-specific groups: especially on Facebook, the generic Marketplace has not been the most successful for me. There you run the chance of coming across scammers, but it's also over-crowded there. My tip: join the neighbourhood-specific Facebook groups. Also for you, if you, for example, live in Eira, join the Eira recycling group and you'll only find things that are sold in your area. Greatly helpful, especially if you're looking for or selling furniture! Also, there tend to be more serious offers and buyers in those smaller groups. Most of them are okay with English communication, although the posts tend to be in Finnish.
Search with typos: this is just a bit sneaky and can work sometimes – if you're lucky (as the buyer, at least), but when sellers put typos in their item headline, you can sometimes find some lost treasures in the grammar trenches. Worth a try.
Make a purchase request: on Tori.fi for example, you can make an announcement with the intent of purchase. Instead of just selling something, you can this way put it out there that you're buying something in particular ("Ostetaan"), and whoever has that for sale can contact you directly, without bothering to put it up for sale, to begin with. Has been greatly helpful!
Put in Search-alerts: this feature used to be available on Facebook, but sadly no longer, however, Tori.fi has just recently launched this, and also lets you put in e-mail alerts for your searches nowadays. This was you get notified immediately if anything is put up for sale that matches your search-query which allow you to…
Be fast: not exactly a magical piece of advice, but if you are looking for something specific, you need to be fast, refreshing that page a lot and don't hesitate with messaging that person asap. Things sell quickly around here.
---
Online second hand shopping in Finland
The most popular places for second-hand shopping in Finland online are Tori.fi and Facebook Marketplace (see further down for specific info on that). Another great spot to buy used clothing is the Zadaa app, wonderfully easy to browse and buy directly through the app without having to interact with a seller. I have found some lovely items on all of these!
Astiataivas and Retronomi for Arabia and other ceramics and glassware. Mostly vintage.
Mjuk for online furniture second-hand shopping. They also deliver!
Franckly is an online market place for pre-owned design items. The alert-setting is really handy if you are looking for something specific to be sold.
---
Links for some area-specific Facebook selling groups in Helsinki:
Jätkäsaari
Lauttasaari
Kamppi
Central Helsinki
Töölö
Eira, Punavuori, Ullanlinna
Kallio
Vallila

…There are plenty more, for different areas and cities, keep looking 🙂
---
My favourite stores for second hand shopping in Finland / OFFLINE
UFF for basics: well my wardrobe consists of basics to almost 90% so this is no great surprise. UFF has a bunch of stores around town that resell clothes that have been donated. You can also donate your items in-store or in collection containers. Most locations of UFF are in Helsinki, but there are several further around the country.
In many UFF stores some special things are sorted separately, such as Marimekko items, silk garments or brand clothing items, which is great is you're looking for something specific there.
Keep an eye on their social media for the "uusi valikoima" dates, which is when their new stock arrived, or also for the "tasarahapäivät" that happen shortly before. Then, all existing stock is sold for very little money – 1€ only on the last day!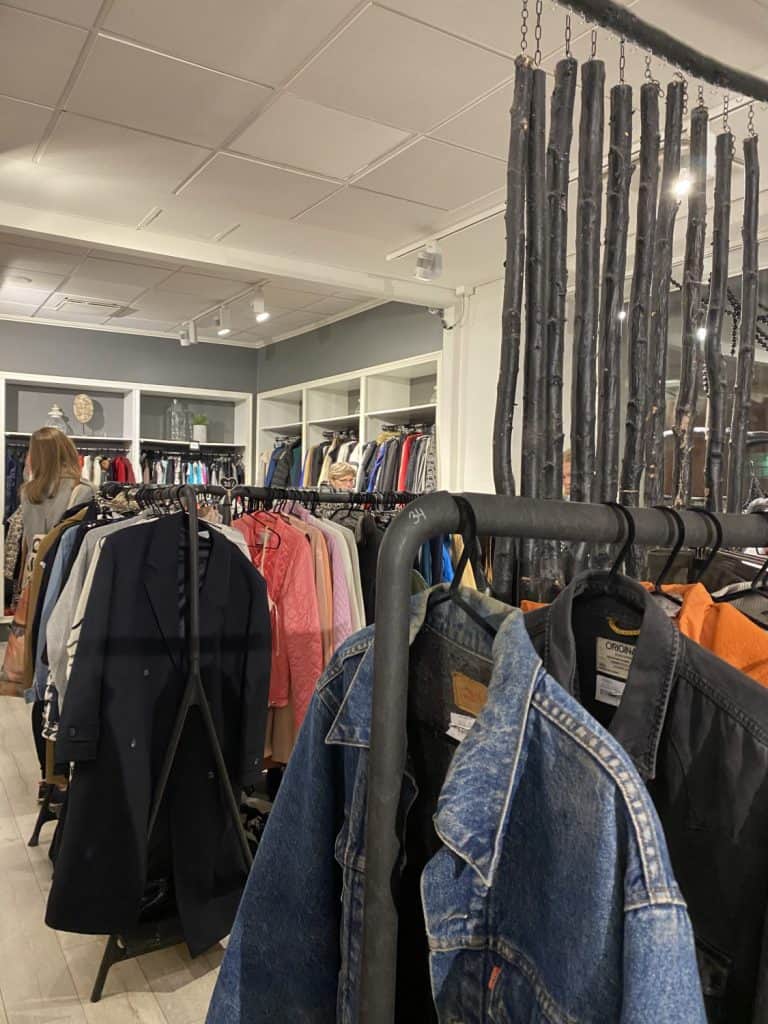 Relove for high-quality, unique clothing items: with two beautiful shops in Töölö and Punavuori, Relove has quickly become a local favourite for finding second-hand treasures from private persons. Here, anyone can rent out a clothing rack and put up their clothes for sale. The shop then takes a commission in addition to a rental fee. Here it's a great spot for items of higher quality or from brands, and it's pretty wonderful to browse through. Both places also have a café with great coffee and snacks (and breakfast).
Similar places are Recci & Frida Marina – see the map on all my favourite spots on the map below!
FIDA for household items, decor and sometimes clothes: while I'm personally not the greatest fan of their clothing selection, I do enjoy going to Fida for home and interior stuff. Most locations also have furniture on offer. My favourite one is the Sörnäinen location, as it's absolutely huge and you can find whatever you need there. Also, the Iso Roba shop is lovely if you're in that part of town. 
Other favourites of mine are Punavuoren Patina & Helsinki Flea Market, which are both the same type of flea markets where each seller has a rack and shelf to display the items that are on sale. In both of these, you can find both clothes as well as household items and all kinds of very random things. Which is kind of my favourite kind. These types of places need more patience and time to find the real treasures, but it's worth it in the end!
See below for the full map of Helsinki flea markets!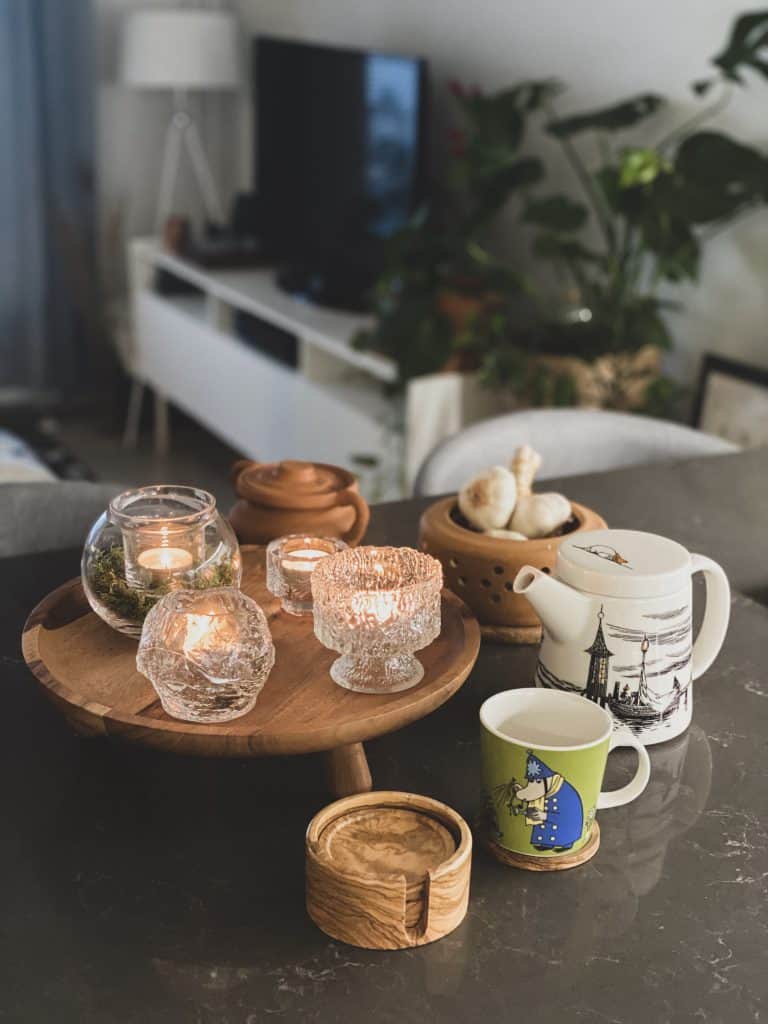 Kierrätyskeskus for…anything and nothing: I have found great household items here, they also have furniture for sale. Most items here are from donations, so the quality is sometimes not the greatest. For every visit with a great find, there were plenty where there was absolutely nothing for me. But: everything is very affordable, if you need to just get things (great for students, everything from my first apartment was from here). This is a great place to go. I personally don't recommend it for clothing. 
Vintage shops: vintage is a whole different story, and worth a post of its own. But, for glorious vintage gowns and great service, do check out Hoochie Mama Jane, Penny Lane and Play it again, Sam
---
For inspiration, follow Secondhandstylefinland on Instagram, also local blogger Stella Harasek frequently goes on vintage hunts all around Finland 🙂 

No luck second hand? Check out the post on interior and furniture shopping in Finland!
---