Tampere is a city that completely surprised me. Despite being the second largest city in Finland, I hadn't really been here except for a transfer to the nearby airport, but other than that, I had no idea of what to expect of this little weekend trip. The city welcomed us with a quirky vibe of the local art and design scene, and a fantastic selection of restaurants and food options. The foodie in me could have easily stayed longer to explore all the amazing offers, but there's sadly only that much you can eat in a weekend. Here's my little roundup for the perfect weekend getaway to Tampere!
---
Good to know
Distance and time from Helsinki: Tampere only lies about 180km from Helsinki and the train gets you there in 1,5-2 hours, for as little as 9€, if you're lucky. The bus takes about an hour longer, but is cheaper.
Famous for: The "Manchester" of Finland strikes with a cool industrial vibe, a vivid design and food scene. Also famous for its Rock music scene and Finlayson.
Best time to travel: Totally depends on what you're going for. Summer is great for all the outdoorsy things, Winter is stunning with its frozen lakes, but as I experienced it now also the off-seasons are definitely worth coming by. The city has enough to offer in any kind of season.
Time needed: We spent two days in Tampere, and I could have easily fit in one more day to get the full impression. So perfect for a weekend if you need to see something new.
---
The city has a fascinating industrial history that still strongly reflected in the city image, merging naturally with both the historic and it's modern side. Tucked away in side streets and old warehouses you find boutiques and restaurants, you can explore the old wooden houses, go for walks by the lake, in the parks and get the best Munkki in the world while you're at it. The vibe is quite different from Helsinki somehow, so I would warmly recommend a trip to Tampere even if you're based in the Capital region, it's worth hopping over there. We chose to visit Tampere during the glorious time of Ruska, when the Autumn colours shine and glow and illuminate everything even in the greyest weather. Even though the city is also famous for its proximity to nature and the possible activities, our off-season trip in mediocre weather wasn't impacted at all. Cuddle up in a warm sweater, put on a nice hat and get some coffee for the walk. Although admittedly, we probably spent less time in nature than planned, and all the more in the local design shops.
---
Where to stay
There's a decent range of different accommodation options, for every style and budget. The Dream Hostel opened up already many years ago, but the extension, the Dream Hotel opened in summer 2014. This complex connects both nicely together, for travelers that value the low-key atmosphere of a hostel, but rather have a bit more privacy and comfort with own bathrooms and such. You can stay at the hotel from a very affordable 59€ per night. The hotel is located next above the hostel in the same building, only a couple of minutes walk from the railwaystation and in close proximity to everything you'd wanna do and see in Tampere. Everything smells of fresh cut wood and shines of Nordic design, making it feel like a very luxurious little hideaway. Just the right thing for a low-key weekend stay.
The rooms have been partly built around the middle of the floor, as cozy little cabins. So if you're fine with totally hedgehogging into a little window-less room and completely forget time – this is a great way to escape the outside world (especially great if it's grey and rainy), if you prefer windows and daylight, make the request when you book the room. Very hostel-style, the hotel area also features a common area and kitchen, that you are free to use. The rooms are all quite tiny without a fridge or workspace, the common area with big tables make it a good option though if you're in town for business (Finnish-standard great wifi is a given).
The breakfast is a pretty good deal, down in the hostelarea, and makes a pretty good start into the day. Although we still had to grab a coffee in one of the cafés around 😉 If you're not around with your bike like we were, you can rent them at the reception. The staff is also happy to help you book a sauna somewhere in Tampere, as there is none in the hotel.
Alternatively, you can stay in the elegant Grand Hotel Tammer, but also the Nordic hotels Scandic and Sokos have properties in Tampere.
---
Where and what to eat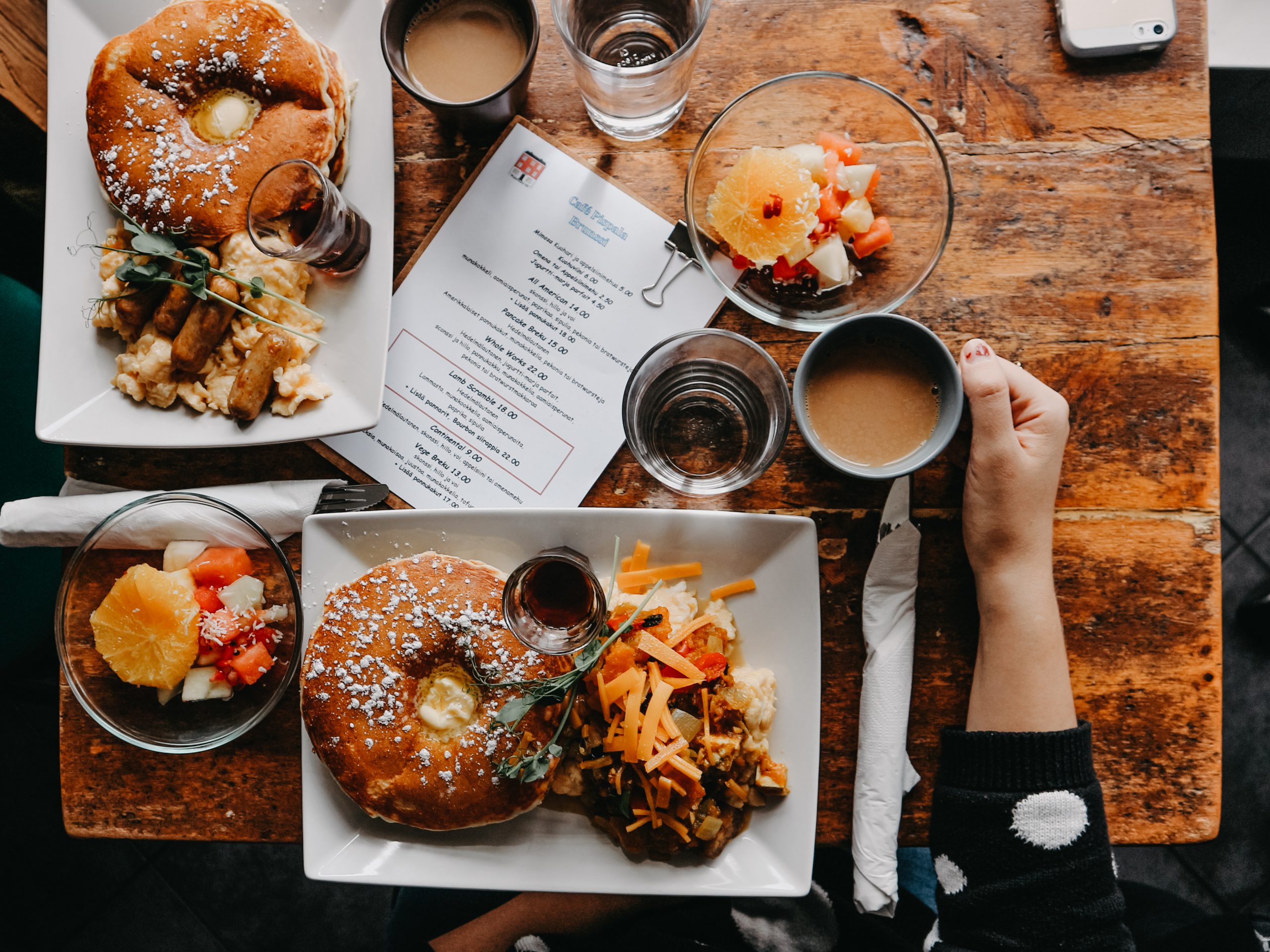 The next big surprise was the food scene that I hadn't really expected. I had done a bit of research and found a variety of great places, too many to test in those two days we spent in Tampere.
Casual dining & Lunch
Kattila – was the perfect representation of the New Nordic cuisine that I learned to love so much while in Finland, fresh local ingredients, and the roasted pike-perch was one of the best fish meals I had in a long time. The brunch menu also looks great! A great find on our evening walk.
4 Vuodenaikaa – tucked away in the local market hall, this French-inspired restaurant offers fresh and delicious food during the opening hours of the market hall. The bouillabaisse was probably my second favourite ever (from the ones in Finland), so I recommend to opt for that. Along the soups and salads, there's also a nice offer from the grill.
2H+K – recommended by many that I asked, bistro style food and drinks from the bar, cozy atmosphere and a go-to for a nice night with friends.
Fine dining
Ravinteli Huber – focussing on steaks and meaty bits but positively surprised my veggie friend as well. Read the review on the full experience here.
Bertha – a glocal food experience – international flavours, local ingredients. I got a taste at the Taste of Helsinki festival in 2015!
Hella & Huone – something very special, the 6 or 12(!) course tasting menu offers tastes of the wilderness. Also having had a glimpse of their craft at Taste of Helsinki, this is definitely on my list for the next visit!
Brunch & Cafés
Café Pispala – PANCAKES – no more need to say anything else. Don't let the location (a bit out of the centre) scare you off, the pancake brunch is worth every bit. This is truly what I call the most satisfying brunch platter I had in a long time. Soft and delicious pancakes, but not short on the savoury side either, with fresh scrambled eggs, accompanied by some fruit and of course – coffee.
What do you do after brunch? Right, you get Waffles. For a reason that is still a mystery to me, Tampere is quite well known for waffles. We were recommended to check out Vohveli Kahvila – the ultimate space for the sweet treat. A little walk away from the centre, you'll find this little living-room like spot – and if you're lucky even with some live music. Apple baked things are my favourite thing in life, and the waffle was not a disappointment. It even had sprinkles!
DO NOT MISS the AMAZINGLY MINDBLOWING MUNKKI from PYYNIKKI! Munkki are the Finnish version of donuts, and they are my favourite thing in the world. I have regular donut/munkki dates with my lovely Eva who was with me on this trip, so an excursion out to the famous Munkki tower was a must-thing do to. And trust me on this: best.things.in.life. I've had many delicious Munkki before, but these took the crown pretty easily. If you don't have time to venture out in the woods, they have a munkki café in the city centre of Tampere as well.
---
Where to shop
Design shopping in all its glory
Unfortunately the weather wasn't really that much on our side during the visit, so the outdoorsy things had to wait until next time. Tampere is situated right by the lake district of Finland and has amazing nature all around it – but those are honestly not that appealing in grey and rainy weathers. So what to resort out to? Shopping and food. And boy, did we go out on both. Especially the design scene in Tampere is so closely knit, it appears that everyone knows and supports each other, which is a refreshing feel to the usually so fast-paced and competitive industry. Rarely have I spent this much time in local design shops and actually found so many things. We used the Design Dot Map as a reference to support our aimless walking, which turned out to be a super great thing to have. The online version is super nice and interactive, I can't recommend it more. You should find it in your accommodation and certainly in the tourism office of Visit Tampere!
My favourite one of all those we visited was Super Mukava shop, where I could possibly spend hours browsing, even though the shop itself wasn't huge. The fine selection of leather ware and clothes from different local brands, in a wonderful setting, lovingly decorated and passionate staff, made this a truly unique shopping experience for us. I found the cutest merino wool and silk turtleneck jumper, Eva bought a stunning dress!
Uhana design had my heart immediately as well, with edgy minimalistic designs that are majorly in neutrals (black! grey! whooo!). Also they treat their garments like pets, in a good way, as in "don't get it if it's not perfect, we want it to have a happy home!" – that made us smile and giggle and still kind of sad I didn't come back for that back-less dream of a sweater.
Kenkäpaja Pihka: certainly deserves a spot on my favourites list as well, as they have their atelier for hand-made bags and shoes right.in.the.store. It was super fascinating to watch them work their magic that results in fine leathery goods. They even offer classes on how to make shoes or bags, definitely, the bag-one is on my wish list now.
The Taito shop was probably the one we spend almost as much time in as in all the others combined. Household items, fashions, accessories…you'd find anything here. Great place for creative Christmas shopping or if you have any last-minute occasion coming up.
Other great stops include One Man Band, again a great selection of many Finnish design brands, also featuring Helsinki labels for instance. The cornery shop was certainly amongst my favourite shops that day, although here I felt like I needed to come back with a fuller bank account.
Seele is another shop of collective items that feature some of the above mentioned brands but also some other Finnish ones, as from Helsinki. Here the focus lies on Eco and sustainable fashion and I also saw some cool things I didn't discover in any of the other shops before.
Interesting accessories and handcrafted items are to be shopped at Pikkuputiikit – in this adorable little warehouse backyard. here you can find anything from jewelry to any kind of fun gifts.
For second hand shopping, don't miss out on the Radiokirppis. This shop is huge, though a bit tucked away, is famous for the garments that fashion bloggers often sell here, so take a couple of hours and dive deep into this massive cellar store. Some glorious finds may await you!
Finlayson is without a doubt one of the most acclaimed Finnish design brands, for textile and household items. They're well-known, amongst others, for their Muumin merchandise, but also for their classic chic patterns and high quality items. When we visited the store there was a 20% discounts on all items, so I went a little mad on towels and bed linnen. The company was actually established in Tampere in 1820 and is one of the prides of the city! Make sure to check out this huge store, also great for gifts.
---
Thank you to Visit Tampere for hosting us! Can't wait to be back!