As a self-employed office nomad woman (= meaning that I don't have a permanent, set office), I carry a lot of stuff around with me. Besides doing a lot of work from home, I tend to venture between different co-working spaces and cafés, to mix things up a bit. Check out my list of favourite places to get work done here, maybe you'll run into me to there some day! Today I will share with you what I schlepp about and how.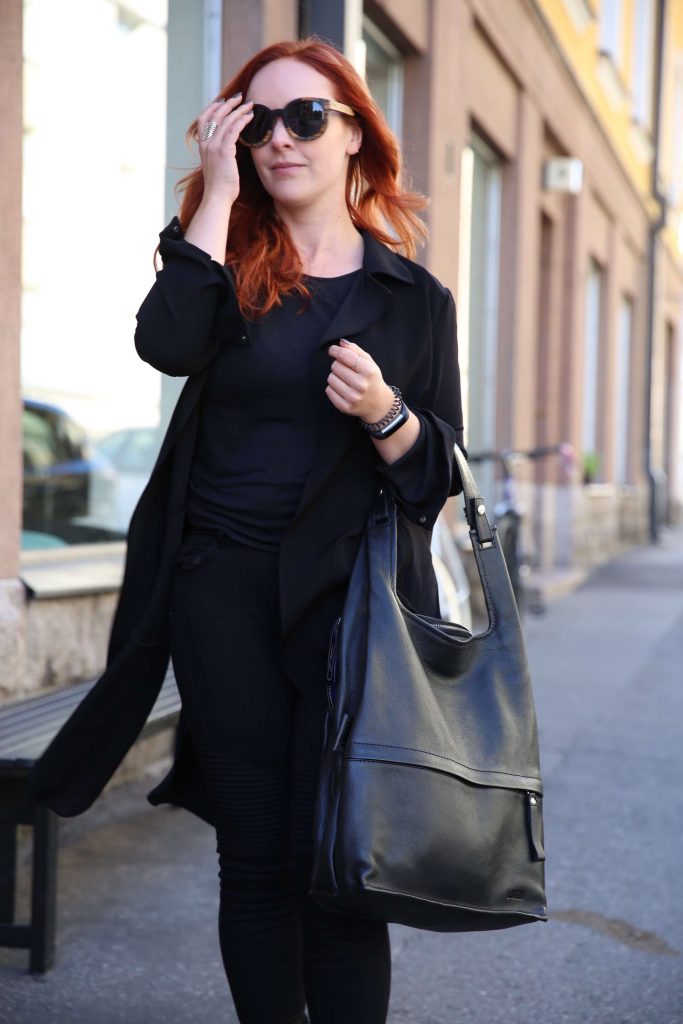 The Bag
First things first, a bag that you can rely on, that's big enough without being an obstacle to move around with, and ideally something fancy and somewhat stylish as well, is worth so much. For years I used inexpensive, lower-quality bags and went through a bunch of them during the year, with straps ripping off, buttons and zippers breaking, before I finally invested in my LUMI bag. This is the follow-up version of their classic Large Supermarket model, which features a separate laptop compartment and a small pocket in the front: this makes it the perfect bag for me. The leather softens with time and makes it incredibly comfortable to wear, the vertical shape feel much more natural when you wear it as a shoulder bag, as your arm movement is not limited by the bag. It doesn't slide, it has a beautiful "Finland blue" lining, pockets inside that make sense, a key chain, and also it comes with interchangeable shoulder straps so you could wear it with one long one, for example cross-body.Â
Many years ago, I always saw one of my professors at uni with a LUMI bag, and had been eyeing them since. As a student, the LUMI price tag quickly scared me away, but after a while of hard work and struggling with this whole entrepreneurial thing, I had reached the point where I could afford my dream bag. I felt like the proudest person on the planet when I strutted in their store at the Helsinki Senate square and walked out with this baby – ever since this bag is somewhat a small symbol of personal success for me.
All these photos taken by the amazing Natali Karppinen from L'Art of Fashion – thank you!! 
LUMI makes high quality genuine leather bags, their company philosophy is pretty minimalistic. Reduce waste, use only what you need. This idea also fits perfectly in the change I'm trying to accomplish in my life, radically declutter, give away what I don't need and what I've been moving around with for years, for no reason. Since the LUMI purchase, I probably gave away or sold 80% of bags, purses and accessories I had in the apartment, and now I am down to four basics, two of which are LUMI.
So, what's in it?
Over the last years I figured out pretty nicely what I actually need with me, and what I don't. This does seem like quite a lot, but I can genuinely say – this is on me whenever I am out to work.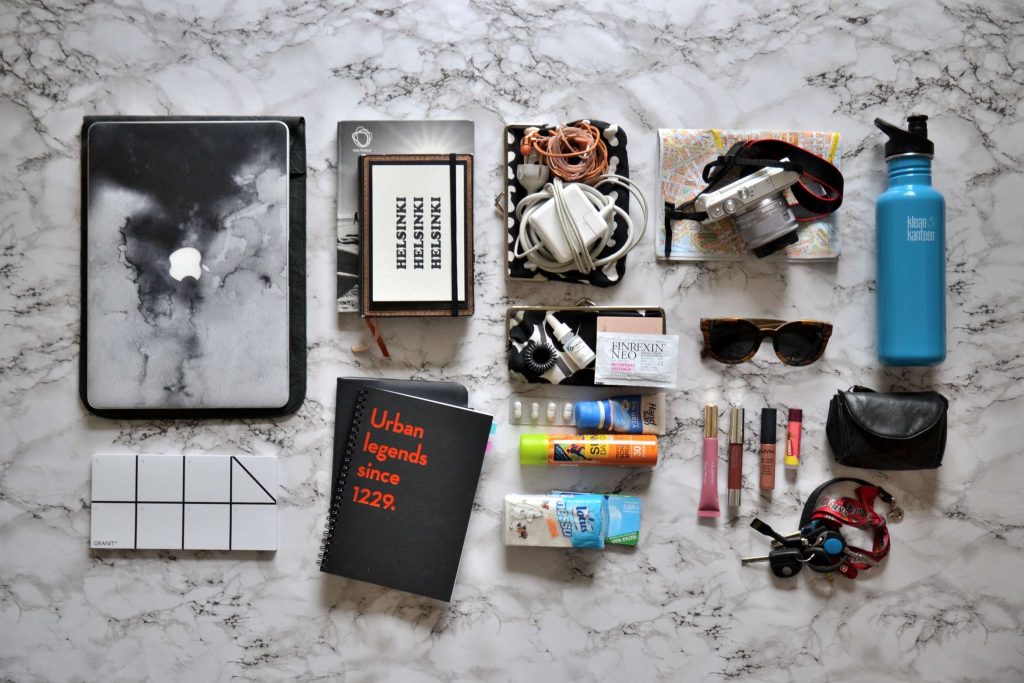 Laptop or iPad mini
My Macbook Air 13" is my companion pretty much anywhere I go, and it has been reliable and amazing ever since I got it. The iPad is great for quick meetings or at events, when I really can't be bothered to carry about anything bulky.
Notebooks & To-do-list-block
With many projects going on simultaneously, it's a challenge to stay organised and not get lost in mixed up notes and bits and pieces. My to-do lists tend to get so long that this happens so this divided notepad from Granit has helped me to plan my weekly to-dos more spread out and divided throughout the week, while still having everything at a glance. My notebook is mainly used for meeting memos and notes throughout the day. Currently I use my beautiful Visit Finland notebook any the super lightweight Turku notebook. I do like me my Finland memorabilia! There are also a bunch of pens, highlighters and pencils in the notebook.
Pouches
One for my electronics, charging cables and all that jazz, the other one for basic things such as some ibuprofene, hand lotion, eyedrops, plasters, Finnrexin (my secret weapon for that little scratching in your throat, it kills every potential flu before you know it) powder for make-up touch-ups and a hair tie. Both my little pouches are by Marimekko.
Wallet, gum, tissues, keys & water bottle
Basic things, not much more to add. The wallet is also by LUMI, which I found at a recent stock sale. I don't like these long bulky wallets, this one fits even in the tiniest evening bag or works as its own, as it comes with a little strap that can also be attached to the inside of the bag.
Calendar
My calendar is for appointment planning and scheduling, and my base for my weekly to-do-listing. I love this one from Paperblank, it's the daily planner, for next year I will definitely opt for the lighter and more compact weekly planner again.
Weatherproofing
Sunscreen is with me wherever I go, I'm so sensitive that regardless of the season I look like a lobster before I even notice the sun. So this is a definite essential. My fashionable favourite are definitely my beloved Pöllöt sunglasses, the Asio model was a 2016 summer edition, but I'm certain you can still find it. When I'm very uncertain about all this weather stuff, I also grab my Mac in a Sac super light rain jacket (not pictured) that has saved me from several downpours, especially in the summer when you don't expect it.
Camera & a city map
The Canon EOS M10 mirrorless camera is my new buddy for the day, it's small, light, but very versatile with the interchangeable lens system. It's great for vlogging and filming, despite the missing external mic outlet. The map – well, as a freelance tour guide as a side job, it has become a habit to have a few thin city maps with me. Not only for tours themselves, but also to help out desperate visitors.
Lip products
I have a slight obsession with lip balms and such, so this is the selection I had in my bag as I photographed it: Nyx Soft matte lip cream in Abu Dhabi, Carmex pomegranate stick, Clarins instant light lip perfector in Toffee Pink and the Catrice Pure Shine lip balm in Rosewood (discontinued). I probably have one more in my wallet and one in each jacket pocket. Yes, it's a thing.