*Updated August 2020*
Being full-time self-employed or freelancing comes with pros and cons. Working at my own schedule and pace, wearing what I want and being where I want are my favourite perks. However I've discovered at times that working from home isn't the best option for me, especially on days when I really need to get busy and things done. I love spending my mornings at home, I'm slow then, and need plenty of coffee to get started. But as soon as I'm starting to try to get productive, often the fridge or the couch seem like more inviting options, so the safer way is to move somewhere else for the day.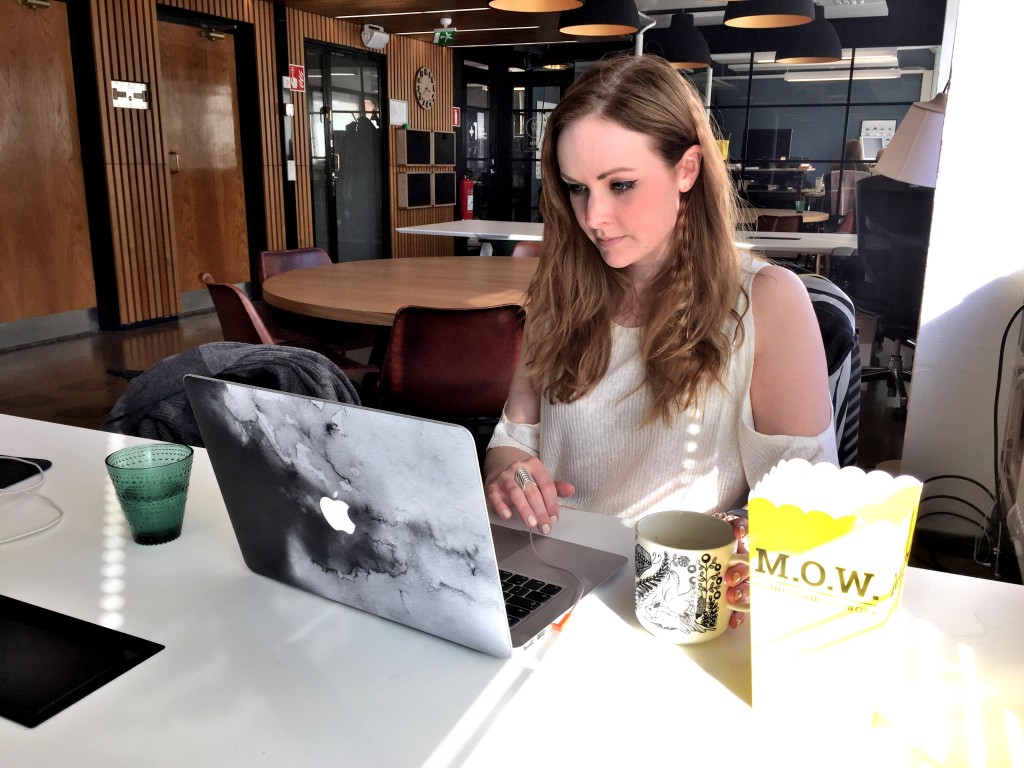 ---
During intense research, I've discovered the very best places in Helsinki to work from! Whether you're a freelancer, visiting the city, a student or have out-days from your office, finding a good place to focus and avoid procrastination can be hard to come by, if you're not all too acquainted. So let me help you fix that.
With more companies opting for home-office days for their staff, more people finding their way to entrepreneurship and generally way more flexibility in working for both Helsinki locals and visitors, here's a bunch of new places that my work friends and myself have found to be great spots for an out-of-office day.
Criteria:
strong wifi and power plug availability, good coffee and snacks, general atmosphere such as mood and lighting, location.
---
---
Mikonkatu 13 – Opening hours: Mon – Thu 08.00 – 22.00, Fri 08.00 – 24.00, Sat 10.00 – 24.00, Sun 10.00 – 22.00
Located very close to the railway station, there is super easy access through various trams, busses and the metro, so that's a plus. Bike parking spots are on the other side of the street too. If you go around lunchtime you can get coffee with your meal, smaller options and snacks are always available. I particularly love the big windows that brighten up the place. The music playing is generally good for working, big windows and a lot of natural light in the front part of Roasberg make it a local favourite for a work session. The plug availability isn't the greatest, so keep an eye out for that, but wifi is great.
---
Yliopistonkatu 4 – Opening hours: Mon–Fri 8–20, Sat 11–17
As part of the Helsinki University, many don't know that the Think Corner Café is actually open for anybody. This place is stunning with high ceilings and stunning architecture of wood and concrete, natural light from the ceiling and most importantly – good coffee and proper wifi. Get there easily by trams 4, 5, 7, 9 or by metro to the University of Helsinki.
---
Aleksanterinkatu 9 – Opening hours: Mo-Fr 7.30 – 20.00, Sa 9.00 – 20.00, Su 10.00 – 20.00
Another favourite for everyone, is Kulma, a cosy and modern café in the heart of the city. The Barista Institute Kulma is really popular, so if you want a proper spot to work, come early. Coffee is very great and if you manage to catch one of the nucks on the second floor – that's the best place. Arrival by trams 4, 5, 7, 9 or by metro to the University of Helsinki.
---
Harjutori 8 – Opening hours: daily 11-02
Ah the home feels! I popped in here just for a quick coffee the first time, and quickly returned for the memories of cafés in Luxembourg it brought me. Good coffee, delightful service. Get there by metro to Sörnäinen or trams 8, 9, 6, 7, 1.
---
Sofiankatu 4 – Opening hours: Mon-Fri 8–18, Sat & Sun closed
More about Sofia Helsinki here soon – because Sofia is not only a co-working space you need a membership for, that is very inviting for a calm work session (and worry not, there's also coffee) but also anevent location and great food options at their Bistro. Arrival by trams 4, 5, 7, 9 or by metro to the University of Helsinki.
Kamppi Shopping Centre, 5th floor – Opening hours: Mon-Sat 11-18
Several locations – and the Kamppi location is a classic. Glorious city views and especially good breakfast are a fantastic location to get productive.
---
Helsinginkatu 16 – Opening hours: Mo-Fr 8:00-18:00, Sa-Su 11:00-17:00
A local favourite for their breakfast, coffee and occasional office cafés, it's a cozy space in a convenient location. Get there by metro to Sörnäinen or trams 8, 9, 6, 7, 1.
---
Viides Linja 14 – Opening hours: Mon-Tue 08-18. Wed-Fri 08-23. Sat 09-23. Sun 09-17
I'm particularly fond of their breakfast menu, from which you can select a bunch of smaller dishes that are all delicious. Lovely calm place to spend some time with good food and some work. Trams 3, 6, 7 and 9 stop right in front of the place, but the Hakaniemi metro stop is also not far.
---
Ruoholahdenranta 8 – Opening hours: weekdays 9-15, weekends, 10-16
The name suggests: this place is built from cargo containers, but it's a permanent construction on the West side of Helsinki. The downstairs part is very bright and has a modern, clean Nordic feel to it which somehow boosts my productiveness a lot, maybe because it feels less distracting. In the summers the rooftop terrace is extremely inviting to lounge with an afterwork drink. Trams 6, 8 and 9 run near to Cargo as well. So the connection is great even though it might seem out of the way for some.
Kaisaniemenkatu 3 – Mo-Tu 3pm–12am, We-Thu 3pm–1am, Fr-Sat 3pm–2am, Su 3pm–12am
Bonus, this one came from a reader! Thank you! With this being a good point – most of the places that are good for a work date tend to either close or become noisier at it gets later in the day. Lost in Helsinki might not be the first thing to recommend that comes to my mind, but for the night owls in search of an out-of-office location, this seems to be a good option. Arrive by metro or tram to the University of Helsinki or just walk from the Railway Station.
---