Oh, how I've been waiting for the day that the forest paths are dried up again, the trees bloom, the beaches come back to life and I can get out again on the most beautiful waterfront walk- and bikepath of the city. Stretching all the way from past Munkkiniemi along the coastline of Espoo all the way to Saunalahti, the scenic road with mystical parts through birch woods, swampy forests and hidden bbq-places on rocks by the water, but leads also along luxurious residential areas and small harbours. Nature is at your doorstep, people, get out there. Every time again I am amazed by how close everything actually is and yet how far from civilisation it seems at times.
The Espoo Waterfront Walkway / Rantareitti
The official path starts from the Northern part of Laajalahti Bay, behind Munkkiniemi, and continues along the shoreline all the way to Saunalahti in Espoo. You can cycle or walk there, it's beautiful to cruise by boat as well. My favourite is to bike, it's so scenic and gorgeous.
Option A: From Helsinki, bike via Ruoholahti and Lauttasaari, and follow the Laajalahti bay from Keilaniemi on. This leads to Munkkiniemi and from there back to the city. This is about 24km and is a nice loop.
Option B: From Helsinki, bike via Ruoholahti and Lauttasaari and follow the signs towards Kivenlahti for as long as you want.
---
How to find your way around the Espoo Waterfront
The signposting is mostly pretty obvious so that you don't get lost, but especially the area towards Espoonlahti is a little tricky, so just follow your nose and hope you're right. The entire path is just a little over 40km – I only did the entire route once, took a bus back home and picked up my bike the next day (okay, so, twice technically).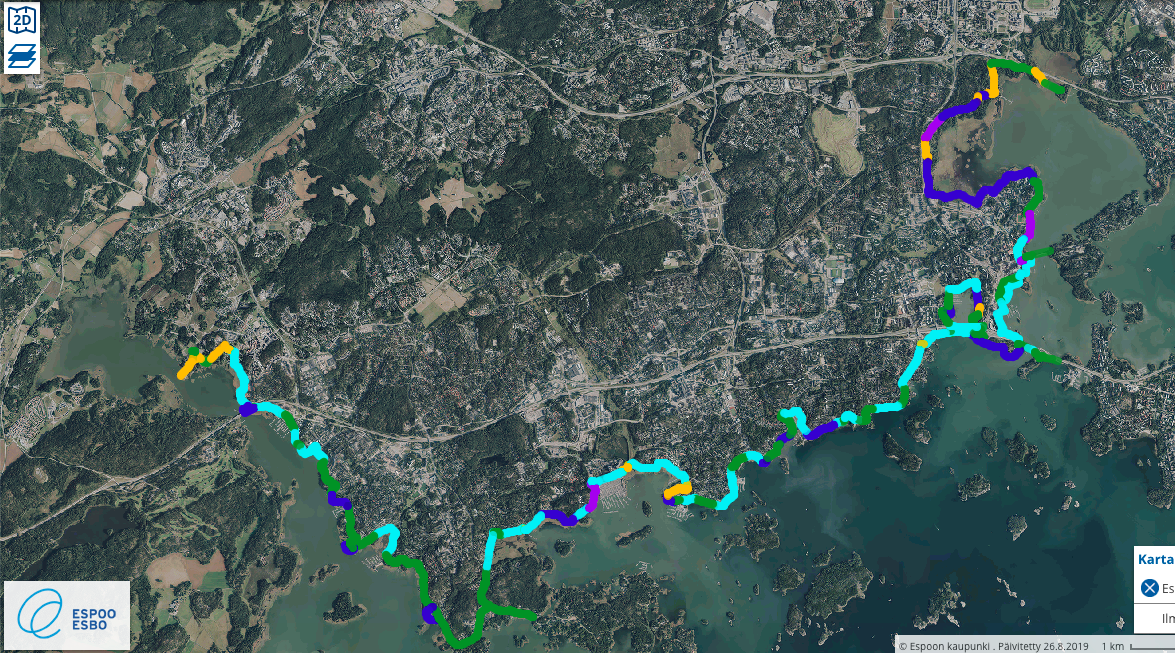 (click on the map for more details!)
What else to do and expect?
Take plenty of water and an extra layer – it's windy out there!
There are a couple of seaside cafés along the way, depending on your route and direction.
Otherwise, take some picnic food and have a calm moment by the seaside – there are many beautiful spots for a break along the way!
---
Some more impressions from the Espoo Waterfront trail: