For most of the last years, I did a bigger bike tour through the archipelago of Western Finland or the Åland Islands, only last year for some reason it didn't happen (it was probably too hot). Travelling by bike is magical, it gives me such a feeling of freedom and forces me to think simply as well. This year, I didn't want to let that chance pass by, especially since I had a serious case of FOMO last summer when I saw friends travelling through what is the sheer stunning beauty of Finnish summer. So, my research brought me to the archipelago trail of the Finnish Lakeland, around Puumala. I have been to that area before, but admittedly, it's been a couple of years, so it felt right to go back.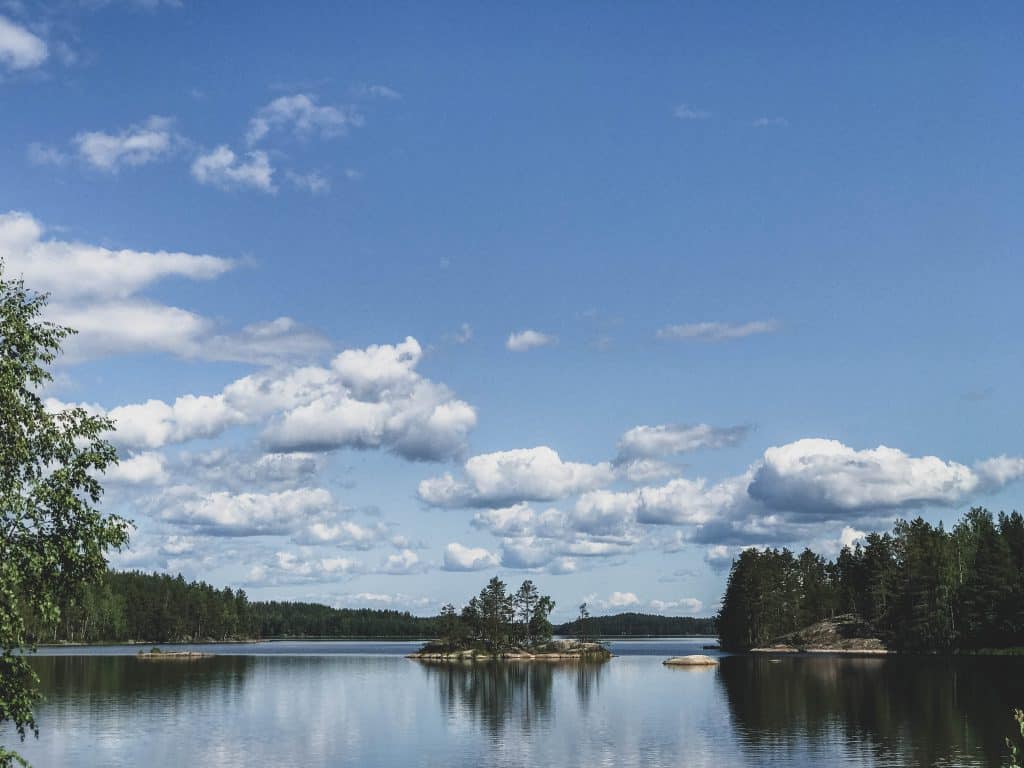 The Trail
The Archipelago route has been opened officially and marketed since 2017, which increased its popularity immensely. The Puumala region is the heart of Saimaa, which is the biggest lake in Finland. The route extends to only about 60km through the lake area, passing absolutely stunning spots, over bridges, with a few ferry rides here and there – really wonderful. Honestly speaking though, I didn't find it the easiest route – with some pretty hefty ascends and many slow slopes, I did struggle to progress through quite many stretches of the route, and I can definitely see why so many fellow travellers opted for an e-bike for the trail.
To reach the actual trail, we hopped on a train from Helsinki to Mikkeli and then continued from there, with our first overnight stop 30km from Mikkeli, and ca. 20km from the beginning of the trail. Much like other trails, the first day that leads you away from main civilisation and out to the actual route, is not the nicest, and this was no exception. The trail itself is easy to follow once you're there, it's all pretty straight forward, well signed. It leads you mainly along the same way as the cars, which at times isn't the most pleasant, but there wasn't a lot of traffic so it was totally okay. Especially the part between Sahanlahti and Nestorinranta is absolutely breathtaking, and worth taking it slow to really enjoy the views. I also enjoyed the little Lietvesi café a lot where we stopped for a coffee and munkki on day 2.
Saimaa bikes offer both regular and e-bikes for rent, and I do recommend their website, and mainly this map below, for any information you might look for when planning your trip. There aren't too many resources (yet), so this was very helpful.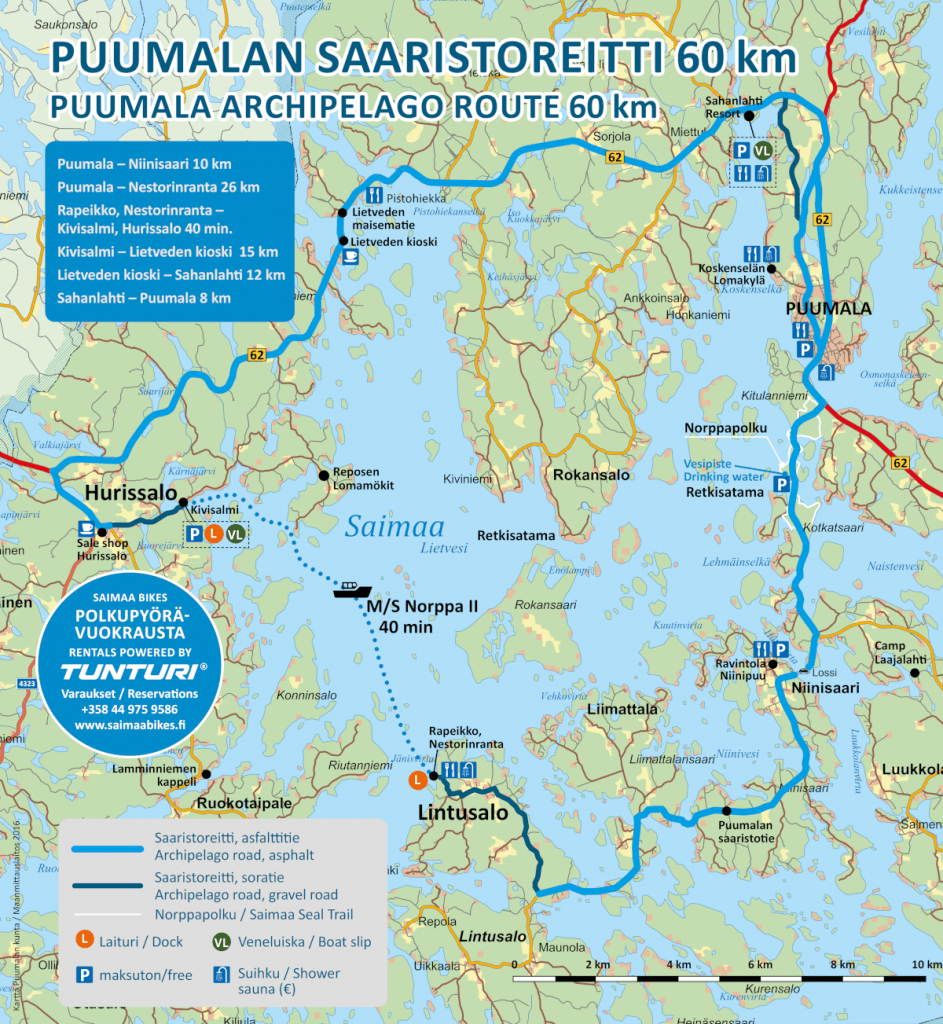 ---
Our plan
I'm not a good cyclist. So let that be your premise here. I have strong legs, but no endurance, for several reasons. Light cardio is fine for me, but some of these days were rough, thanks to the aforementioned slopes and also at some point, the temperatures. In the end we were lucky that the heaviest cycling day was pretty mild and even a tiny bit rainy. There are people who do this trail in a day and it's a breeze, good for them, but not how I want to (or could) travel.
For me, these trips are not only about the biking. In some ways, the journey surely is the destination, but not entirely. It was important for both of us to have some relaxing down-time when not cycling, really rest (not from the biking but from life in general) and really experiencing the destination here. There is so much to do and see in the Lakeland, so I honestly don't really understand people that just want to go and cycle as fast as possible. Seems really odd to me!
The last day we skipped the ride back to Mikkeli and took the bus instead. Make sure to call the bus company beforehand to confirm they take bikes on the bus you're planning to take or you might run into a bit of an issue.
Break down of the trip:
Helsinki – Mikkeli (train)
Bike to Lakeisten Camping
Bike 30 km,
Lakeisten Camping to Koskenselkä
Bike 48 km
Rest day
–
Koskenselkä to Nesturin Ranta
Bike 27 km
Rest day
–
Rest day
–
Nestorinranta to Anttola
(bus back to Mikkeli)
Bike 28 km
---
Where to stay & What to bring
Well, where to start. Saimaa is a paradise for nature lovers and is one of the best destinations to spend a peaceful summer in Finland. There are tons of cottages to rent, but for the sake of simplicity and our fairly quick trip, we stayed on campsites that have cottages available and B&Bs.
Like I mentioned before, there aren't that crazy many options and especially if you're planning to go in the summer season, it is wise to book early, or at least earlier than me. I had to shift around the dates a couple of times because some place was fully booked and it messed up the whole plan. So definitely take that into consideration. We packed fairly lightly and also decided to self-cater most of our meals, so it was important for us to have cooking facilities available in our accommodation.
---
Lakeistenranta Camping: we stayed here for one night only, but we enjoyed it. I had an epic shower after a long bike ride, I read on the porch, went picking blueberries. The cottages are really cute yet basic, but all we needed for one night, but there are also more elaborate options available.
---
Koskenselän Lomakylä: ah this place! I didn't realise that I had stayed here with a dear friend already in 2011. So it was wonderful coming back, and I wished we had more time here. It has everything: it's a fairly large campsite but there are bigger villas and small cottages as well, which was our choice for the 2 nights we spent here. The cottage had a mini kitchen, a comfortable little porch were we could eat; there's a wonderful beach and the best lakeside sauna – and indulge in post-sauna fries – you can go paddle or go for a hike. The best: making blueberry pancakes with freshly picked berries.
---
Nestorinranta: this adorable Bed & Breakfast lies about one kilometer from the lakeshore, and is an old farm manor, which has some of the buildings turned into a small B&B, but also a couple of bigger villas on the estate. We had a little studio on top of the main house (which I guess used to be the barn). We spent most of our time here by the lake and not in the room, so for this purpose it was wonderful. I highly recommend the breakfast: it's not cheap at 11€/person but it gets you the bestest Karjalan Piirakka I've had to date, fresh berries and eggs cooked to your liking. I'm happy we splurged in this every morning. Further down at the lake you can cook up a bbq, or get a lettu at the little pancake summer café.
Packing & Happiness Essentials
Coffee equipment – no compromise here. Our morning ritual is having our coffee together and it's one of my favourite parts of the day.

My Kuksa from Kupilka – for coffee and everything else, the Kuksa was one of the best things to own and bring with me on trips that take place outdoors. It's handy and light. Comes in different sizes, and I definitely want to get the cutlery and bowls as well some time
Bodum travel French Press – definitely not an essential in general, but for us it was. It's perfect for two small coffees in the morning and worth to bring, we used it every day.
I went out to

Helsinki Coffee Roastery

to pick up a holiday coffee and it lasted us perfectly for the week. Their coffee beans #2 I got freshly ground at the roastery and it was great.
Birkenstock Eva model – I live in Birkenstocks in the summer, but the leather isn't really the greatest thing when you're out or when it gets wet. The Eva line is made out of rubbery-plastic material which is basically like a better flipflop, but they also are super comfortable. From going to the sauna, to the beach or even on short hikes, these were fantastic. Can't imagine any trip without these anymore! Only downside for me: my size only comes in the Gizeh model with the toe separator, which isn't great if you wanna wear socks with them (yes in this case it's allowed).
Patagonia Nano-Air Light Hybrid jacket – one of the best investments I've made over the last year, this magical jacket is so thin and light, yet keeps you warm and cozy all the time, without giving you the sweats. I'm so happy I b(r)ought this!
I lived in my Nanso linen shorts! They pack light, they're super comfy and so durable. One day I spilled ketchup all over them but it rinsed right out without leaving any stain, and dried again in half an hour in the sun.
Audiobooks and e-reader – I'm a true fan of the Bookbeat app, actually the first time I got into audio books was during my last bike trip two years ago, and I've been hooked ever since. Bookbeat is great (not sponsored, I wish) because you can listen to as many audio books as you like (whereas other services give you one book a month, and well, too bad if you don't like it), and also they have the entire collection of my favourite youth and childhood audioplays. Which makes my day every time.
---
What to do
For me personally, the Lakeland is the perfect place to get a glimpse into why the Finns love their summer, the whole Finnish summer culture and the beauty of this country.
We took a boat course – we wanted to be able to explore the lake on our own, and Nestorinranta does not only rent boats, but you can also learn about them. The two hour course was a wonderful experience with the owner, we learnt a lot and we confidently took out the boat the day after for many hours. The part of the lake was fairly straight forward to navigate with a bit of input and going slowly, and it was my favourite part of the trip to be able to explore the islands at our own pace. It was truly wonderful and I'm so glad we did this! More boating!
I mentioned the berry-picking before, but that's one of the things that gives me most peace and calm in all the world. I could do it for hours, if it weren't for the mosquitos. I even brought my berry-picking device and while it took up lots of space and it's really not a necessity, it totally made me happy!
To go for some easy hikes, there are countless nature paths around the whole archipelago of different lengths and with different focusses, if you want to learn something. Be aware of mosquitos and horseflies.
Relax – it doesn't happen for me all that often that I'm without my laptop, and I couldn't remember the last time I had been without mine for a whole week! Instead I managed to catch up on some reading, had the best sleeps in months, had epic naps and didn't feel bad about them, went for a spontaneous swim and napped again. There's no place like it.
Go Paddle! One of the best summer activities to experience the lake from a different perspective and just enjoy the views and the feeling of the waves. Most places have rowing boats or kayaks available – make sure to ask for them. You won't regret it.
Embrace the summer culture – the pancake kiosk I mentioned for example, is only open in the summer and such a wonderful thing. Lettu are cooked in big cast iron skillets which makes them super crispy, and you add some homemade jam and ideally also ice-cream to them. The savoury version with carrots, cream and dill was also delicious. These little bits of Finnish summer make the experience all the more delightful.
…sauna and swimming – of course. No time well spent in Finland passes without the sauna, but that's no news. I loved the lakeside sauna at Koskenselkä – it was one of my favourite moments on this trip.
Final tips & recommendations
Plan earlier than me! That's my main advice.
Pack for warmer weather and for colder weather than you'd think. I used both my warm jacket and my woolly socks, but also the lightest shirts and the shortest pants. We really had a bit of everything and especially during the night, and in case you have to leave the cottage, it's good to be equipped.
Sunscreen and mosquito spray all the way of course, but especially to combat all kinds of insects in the forests, I was really happy with my Marimekko cotton longsleeve
Take a deep breath. This is truly one of the most beautiful places ever. Finnish summer is glorious. There is a reason for why the Finns don't travel abroad in the summer, and this is one of them.