On my quest to get a decent winter experience this season, I was mainly struck by the prospect of skating on frozen lake Saimaa. Finland being the land of 1000 lakes (192.000 to be exact) offers almost endless possibilities to experience nature, and ice-skating on there seemed like a dream after seeing pictures like this and this video. Research brought us to the lake district around Mikkeli in central Finland, the heart of Saimaa and famous for stunning landscapes and countless lakes, islands and bays.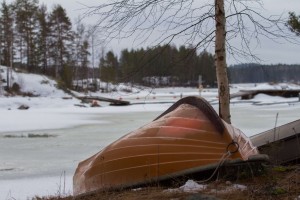 The lakeland region of Saimaa is a popular destination during summer, the endless sights of lakes offering countless possibilities to get active in nature, experience nature at its purest and live the Finnish summer lifestyle.
Winter activities in nature were what we came for: you can rent snowshoes and sledges; take a kayak tour in the summer, go swimming. Ice-skating in the winter is of course highly weather dependent, in our case we weren't very lucky. For the first time in weeks it was too warm for the skating tracks to be opened, water on the lakes made it impossible to skate (I cried a little). But all the more reason to return in time next winter.
We visited when there was an ice-fishing competition taking place. I've never really done ice-fishing but it seems a bit odd to make it something to compete over! The ice-fishers were bravely hanging around the lake in freezing wet wind for impressive 3 entire hours – the winner took the prize home with his catch of 371g of fish!

HOW TO GET THERE
Busses and trains can get you to Mikkeli easily and affordably. Yet, it's an area where you're basically lost without a car, public transport within the cities are decent, but here it's the nature you're coming for. The further out, the more pristine and beautiful, quiet and peaceful it gets – this remoteness is what an escape into Finnish nature is all about – so having a car to experience is this practically unavoidable. If you don't want to drive from your starting destination, you can rent one in the region; we picked up a car and chose to drive directly from Helsinki. The trip from Helsinki takes between 2.5 and 3.5 hours, depending on the mode of transport you choose – so it's still within the range of distance that's tolerable for a quick weekend trip!

WHERE TO STAY
The Sahanlahti resort lies between Mikkeli and Puumala in the Saimaa lakeland area, a good 3,5 hour drive Northeast of Helsinki. Owners Jaana and Janne Kuivalainen have bought and re-opened the estate after it had been closed for two years – not only visitors are happy about this, it is also close to the heart of the people of the area. It's not hard to see why the place is so loved: situated right by the lakeside and surrounded by forests, the views are amazing, the mansions' terrace has even been voted one of the most beautiful terrace sceneries of Finland.

Jaana and Janne want to make the resort a place for everyone while remaining small and homey – cottages and the Väentupa hotel we stayed in all in all host only 40 people. Basically, Sahanlahti is a little village where you can stay and enjoy local food at the two restaurants – one of them being the Pajapirtti hut, where meals are available straight from the campfire. In summertime there is also an area for caravans. The familiar atmosphere really takes the edge off everything: Sahanlahti is a lovely, cozy place where you can only feel comfortable.
The highlight: the Niskalampi lakeside sauna which can be booked privately – a bit aside of the rest of the resort, the building lies in complete solitude in the darkness of the Finnish forest. Absolutely zero light pollution and total silence make this sauna experience one of a kind. A couple of steps down from the little terrace down to the hole in the ice of the little lake it's next to – the tingling feel after a dip into the freezing water after sauna – still the most amazing feeling ever.
A REGIONAL IDENTITY
The heart of Saimaa is the city of Mikkeli and usually the starting point for trips to the region – but also the centre of regional food culture. At Sahanlahti we met famous Finnish chef Markus Maulavirta, who has helped the resort and also the region to develop their culinary identity by using local and organic produce in a distinctive way to Saimaa. Tourism-wise the region has started to drastically develop, and defining themselves through food is a vital part of this change.
At Sahanlahti we were treated to a breakfast showing off the best of what they offer, cured fish from Saimaa, pickled forest mushrooms, berry juices, regionally typical barley flatbread and a heavenly oven porridge are only a few things worth mentioning.
Local food presented in a new way at Bistro Vilee – one of the fewer restaurants in the city serving fine cuisine, yet in a casual and (to me) typically Finnish setting. Popular dinner place, but also their three-course-lunches are a great option to try.
Finns like their market halls, and in Mikkeli you should also visit theirs! Mikkelin kauppahalli is a small market hall within a shopping mall brings local sellers to one beautiful space. From fresh vegetables to the uni
Ollinmäen viinitila – the wine lover that I am got instantly excited at the news of a winery in the region, so it had to be visited. Unfortunately the actual premises of production couldn't be visited, but the shop is still worth dropping by and stocking up on delicious white currant sparkling, blueberry wine and strawberry ciders.
Right in the centre of Mikkeli there is Tuore puoti, a small shop that sells both local food and generally organic alternatives to what you can find in regular supermarkets. Really fun to browse and the homemade Karjalan Piirakkat are so tasty!
Tertin Kartano is a manor residence about 20 minutes outside of Mikkeli in the middle of the countryside where you can visit beautiful gardens, have Sunday brunch and shop local and homemade delicacies.
Many thanks to our wonderful hosts from Sahanlahti resort, Taija from Visit Mikkeli and Sixt Finland for supporting this trip. All opinions are my own.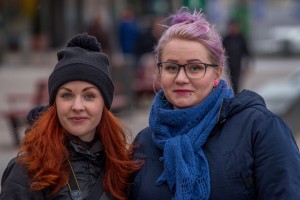 All photos by Kathrin Deter & Kristof Minnaert