Already last November, I got to tell my story of moving abroad and starting my business for the #EUmovers campaign of the European Commission. To celebrate 50 of Freedom of Movement in the EU, they selected a handful champions of free movement and I am so proud that I got to be one of them. To conclude this year-long celebration, I was now invited to join a panel discussion on the topic in Brussels – which is definitely a highlight on my path.

(click below to see my campaign video)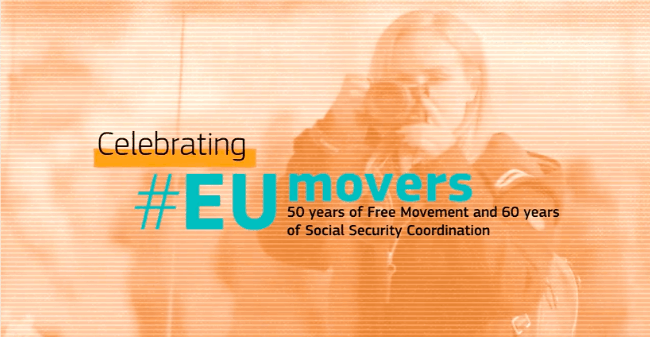 ---
EU and Me
As a European School of Luxembourg graduate (my mother worked for the European Parliament), I got educated on the benefits of the European Community very early, and I am delighted that I can work with these institutions that have shaped my life in such a positive way – and in so many ways. Travelling to Brussels, I noticed again how. On the new pages of #EUandMe, you can find a super nice and easy overview of the services and regulations for citizens of the European Union. It's worth browsing and getting an idea of how the EU plays an active role in our daily lives.
Travelling to Brussels was a bit of a throwback for me, seeing the Atomium far in the background from our hotel room reminded me of school trips, and after having cravings for moules frites for several years, indulging in those made me thoroughly happy.
---
1. Travelling across borders & Driving
For many of those of my generation, being able to travel across Europe without worries is something so normal, that we sometimes forget that even for our parents this was not a given yet, at all. Signed only in 1985, it started with the five founding states that allowed internal border crossing without any checks. I remember the stories of my mum of crossing the borders and how she was held up at the border from Germany to Luxembourg with some chairs she transported. Unimaginable today. Anyone visiting Europe from outside the EU is absolutely flabbergasted by the fact that you can use planes pretty much like buses or trains, without any passport or ID control, most of the time.
Another thing that I never thought about all that much, is that I can drive in any EU country with my driver's license. If issued in an EU country, it is valid in all of the member states. How freaking handy is that? My dad has his old floppy international license which he needed even when he drove over to Luxembourg from Germany when he still lived there. Life today is just so much easier.
---
2. Passenger rights and compensation
Before I travelled to Brussels, I went for a little pitstop in Luxembourg for a few days – while I was so close to my old home, I had to visit my family and friends. So I found myself with my mum waiting for the train from Luxembourg to Brussels, with my coffee and sandwich ready to go – when our direct train was cancelled. We had plenty of time buffer, so we waited for the next one an hour later. That one ended up being cancelled as well. In the end, we arrived almost 3 hours late in Brussels, had to get a hectic train change over with and mainly lots of stress because of the uncertainty if we're gonna make it in time and when. Last year, we left Portugal after our holiday with a whopping 2-day delay – it took us 10 months to get compensated, but in the end, thanks to the appropriate EU regulations – we got what we were entitled to. While air traffic compensation in the EU is pretty much common knowledge for many of us, I now know that it actually the same with train connections. You can read up on it here and claim your right for compensation that is regulated EU wide as well (the same goes for bus and ship travel!).
---
3. Roaming and connectivity
Having my own business, it is imperative for me to be able to stay connected and online when I'm abroad as well. As an entrepreneur, it gives me the flexibility to travel but I have to be able to rely on the connection and the costs when it comes to running things from another country. With the change of the EU roaming regulations last year, a lot changed for me and I LOVE it. I went to my mobile phone provider in Finland to get some information on the roaming data included in my contract, I get a text message with some info upon entry of any EU country, and I try to remember to reset my data stats on my phone to make sure I can keep an eye on the amount I use while abroad. This has changed my work life completely! Again, I do remember that one summer when I had a project in Germany, and forgot to turn off my mobile data while abroad, and was welcomed home with a phone bill of over 100€. Not fun. But now in the past.
---
4. Insurance and safety
We've all had silly stuff happening to us abroad, whether we tripped on a staircase, or got pneumonia or knocked our back out – the stories don't seem to end these days. While you should always make sure you have the appropriate travel insurance in place, us European citizens are entitled to the European Health Insurance card which makes sure that you are covered anywhere in the EU. You can request it here – it is free for Finnish residents and it takes literally 20 seconds. In case of emergencies, the emergency phone number is the same anywhere in the EU. Anything happening on the road is scary, but it's good to know that as an EU citizen we don't have to worry a whole lot about that business as long as we're in a member state.
When you show the European Health Insurance Card to the treatment provider, you should receive treatment to the same cost as the country's inhabitants. In this case, you pay a user fee that corresponds to the fee paid by local residents and the country where you received treatment charges Kela for the rest of the costs. Kela pays the costs from state funds.

(Source: Kela)
---


This post has been created in collaboration with the European Commission in Finland.
Thank you!