I'm constantly on the search for brief Helsinki escapes, from busy times working and all that. I knew Naantali only by the comparison of it being "the Miami of Finland" (without the drugs) and heard plenty of stories about it from friends praising it, but only recently I got my own first glimpse of this magical seaside town.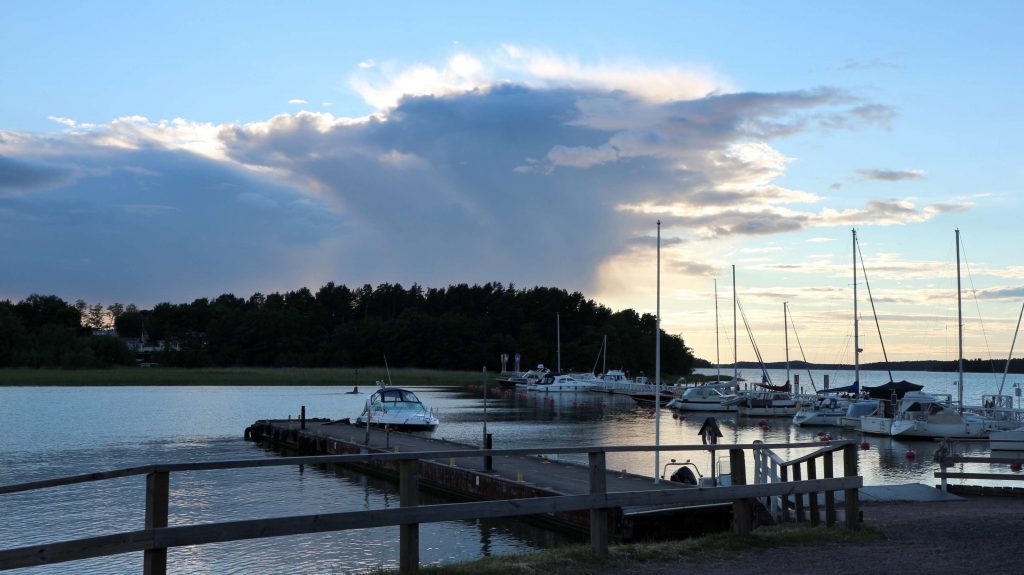 Good to know
Distance and time from Helsinki: Naantali lies a good 190km from Helsinki, which is about a two hour drive. A bus ride takes a bit longer, as the busses usually go through Turku, but it will still be less than three hours and easily manageable for a weekend trip.
Famous for: Sun, muumins, the spa, the harbour, the houses…ahm. Many pretty things.
Best time to travel: Well, Naantali is an acclaimed summer destination, although I can see it being totally charming in winter as well. Still, go in the warmer months.
Time needed: Let's put it like this, one night is not enough. If you manage to have two full days and time to spend two nights, that's perfect. Anything else will just add to your experience.
Naantali is one of Finlands oldest towns and one of the most popular spots (also for Finns to visit). Having been around the area of the Western archipelago already several times, Naantali was still on my list of places to visit. On a quick and perky two day/one night trip you can get an impression of Naantali, but it will only tease you and leave you sad when you have to leave. I genuinely wish to have had more time to stroll around the picturesque street, check out some local stores and hang around the nature. The town is cute and little and tiny and manages to calm you down instantly. There's simply no way you could feel stressed in a place where the most idyllic wooden houses line up at the harbour, the smell of fresh waffles is in the air and you can cuddle the Muumins. There are many sides to it, in addition to the stunning nature and the spa side there is the variety of culture, art and history that I still have yet to discover.
---
About finding your inner child
If you don't like the muumins this will probably not apply, but there's then also something wrong with you. Regardless of having children yourself or not, visiting Muumimaailma is something you'll really have to do when visiting the city of Naantali. The theme park is not what you're imagining now, it's not loud and wild, but peaceful, delightful and effortlessly charming. The characters come alive, the stories become reality and you can have pancakes. Only a bridge away from the old town, there's literally no excuse for you to not go and visit. In the summers, the open air theatre offers performances (yes, for adults too, in Finnish probably) that may spark your interest as well. Best part though: Muuminmammas pancakes.
About letting go
Naantali is proud of its spa history and rightfully so. Being pretty much the only town in Finland with this reputation, staying at the five star Naantali Spa Hotel is something worth considering: I felt immediately like somewhere at the French Riviera (although I later learnt that it wasn't what they were going for) but nevertheless: the extensive selection of beauty and body treatment really wants me to pack all my girlfriends in a car and immediately some back for some more pampering. The rooms are spacious, the beds are comfy, the terrace views lovely – give me a bathrobe and some bubbles and I'm back. For a luxurious getaway after a stressful period, this is really just the thing to let your daily life outside for a while.
…and treating yo'self
A place without good food is not a good place. You don't need to know me overly well to grasp that I LOVE food and it's the best thing in life and an easy way to get me on your side (if you ever need me to be, just hinting). Gorgeous dinner spots by the water such as Rantaravintola, which treated us to a fantastic evening; small beer gardens with a harbour view, deliciously soft waffles…I could go on. You're not gonna be short of mouthwatering options around, also just one more reason for me to return soon and keep tasting all the things.
About nature love
If a place is good enough for the President of Finland, it's already saying a lot. The Finnish head of state's summer residence is right across from the Naantali harbour, and you can see the flag blowing in the wind whenever he's visiting. Most of Naantalis area actually lies on islands. Visitors have plenty of opportunities to head out and visit pure nature at its finest, such as the tiny island of Ruohokari which was certainly one the most perfect summer dream spots I have seen in a long time. If you're as lucky as us and travel in a group of about 10 people, you can not only get treated to a lovely summer bbq buffet but also get your sauna on. I can't wait to be back. Let alone the boat ride was stunning (and windy).
Thank you so much to Visit Naantali for having me, and Veera for hosting – and of course to the ladies who were such grand company! Opinions and experiences are my own, naturally.
Thanks to Canon, all Photos were taken with a Canon EOS M10 Mirrorless camera and iPhone 6, by Kathrin Deter