Disclaimer: this is not a gear guide! I am not a professional outdoorsy person, but I have pretty strong opinions on, well, everything. My recent hiking trip to the St. Olav Waterway reminded me how much I enjoy playing around with different outdoor bits and bobs and figuring out what I enjoy using, especially in this season. Here's my Outdoor favourites.
---
*This post includes affiliate links
---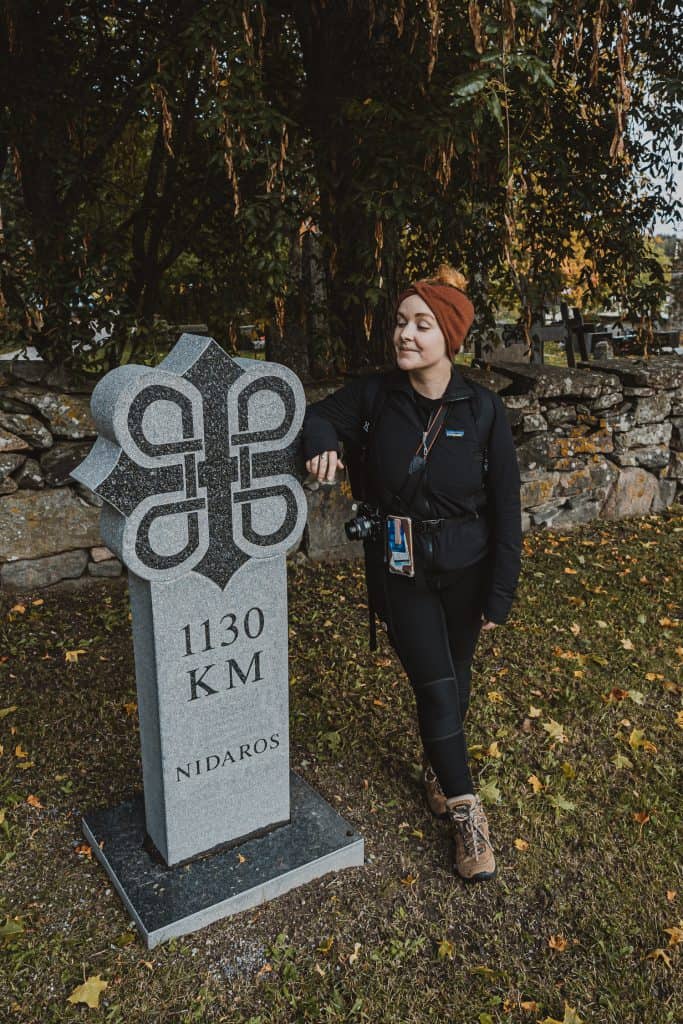 Clothing
MERINO WOOL
Okay, starting off with a material in general, not an item – but this is the first thing I need to mention. Being the material nerd that I am, I can't encourage anyone enough to invest in good fabrics. I only discovered the magic of merino in New Zealand in early 2017 and I don't know how I ever ventured outdoors without it. It is soft, breathable, is wonderful for layering as it is so soft. I wear it as tank tops or t-shirts in the summer, and hoodies and longsleeves in the colder months – for ultimate comfort at all times. It's delicate (be careful with holes) but durable at the same time (doesn't need a lot of washing, as it easily airs out, but doesn't really smell to begin with. Basically all my top pieces are merino, regardless of brand. Just check the material tag. Big love. I like the pieces I own from Icebreaker (very pricey though) but also from Frilufts, worth checking out local brands such as North Outdoor as well.
HIKING TIGHTS
Being a short person (154cm) pant business is always a struggle. Especially outdoor pants, where the fabrics are harder to hem and the structure of pants can be ruined if they are tailored in some way. When Fjällräven launched their tights, I feel like I was the first person to order them. I own the more heavy-duty trekking tights, as well as the lighter trail tights and they are all I wear for any outdoor activity. I recommend sizing up so you can wear base layers underneath if need be. The enforced fabric on knees and butt are great for worry-free going about places, and they have tons of great pockets.
JACKETS – MID LAYER
I discovered this Patagonia Nano-Air light hybrid jacket at a trade show some years ago, and ordered it right away. This is definitely one of the best pieces I have invested in, ever. While I couldn't find the exact one anymore, I recommend checking out the nano-air line regardless. So soft and comfortable, and magical at keeping you at the perfect feel-good temperature regardless of the condition outside.
DOWN JACKETS
I have a light down jacket from Luhta, it has a hood and it's great. It packs small and also looks pretty good, and I'm very happy with it. Check out the light down sweaters and hoods from Peak Performance, Patagonia or Haglöfs for alternate options. 
RAIN SHELL
The Torrentshell rain jacket by Patagonia (again) is anything you'd want in a rain shell. It keeps you comfy and dry, packs away small and it was also pretty affordable.
OTHER
For down-time, I always bring the softest pair of leggings I can possibly find, my go-to ones are these. It feels like you're not wearing anything and they aren't see-through.
Footwear
BOOTS
Well, here's the thing: my hiking boots where a flea market find from Lapland, they are by Meindl and they were 20€ used, but looking like new. I like them and I haven't felt the need to look for other ones. I recommend Fräulein Draussens blog (in German, but Google translate can help) for any advice on gear for ladies – she's my go-to place for any reference that has more merit than my opinions.
SLIPPERS
Besides the hiking boots, I can't recommend the Birkenstock Eva model more – they weigh almost nothing, are super comfortable and a true relief for your feet after a long day of walking. They are a great slip-on option for around your destination, especially in the summer, but I also chose the sexy way to wear them with woolly socks when it got cold. Comfort is everything.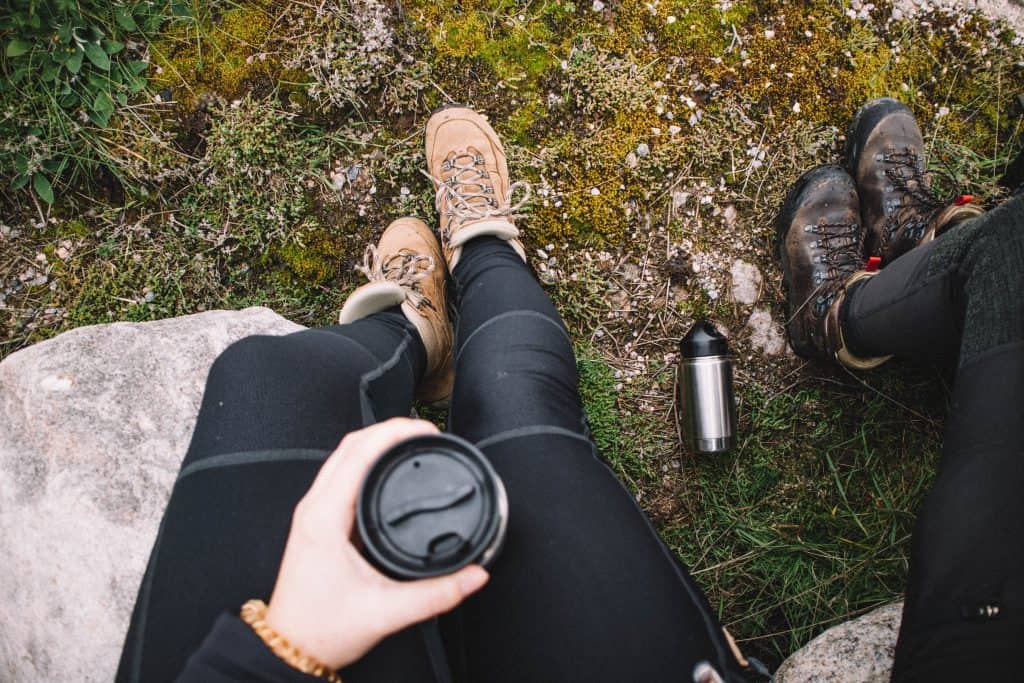 ---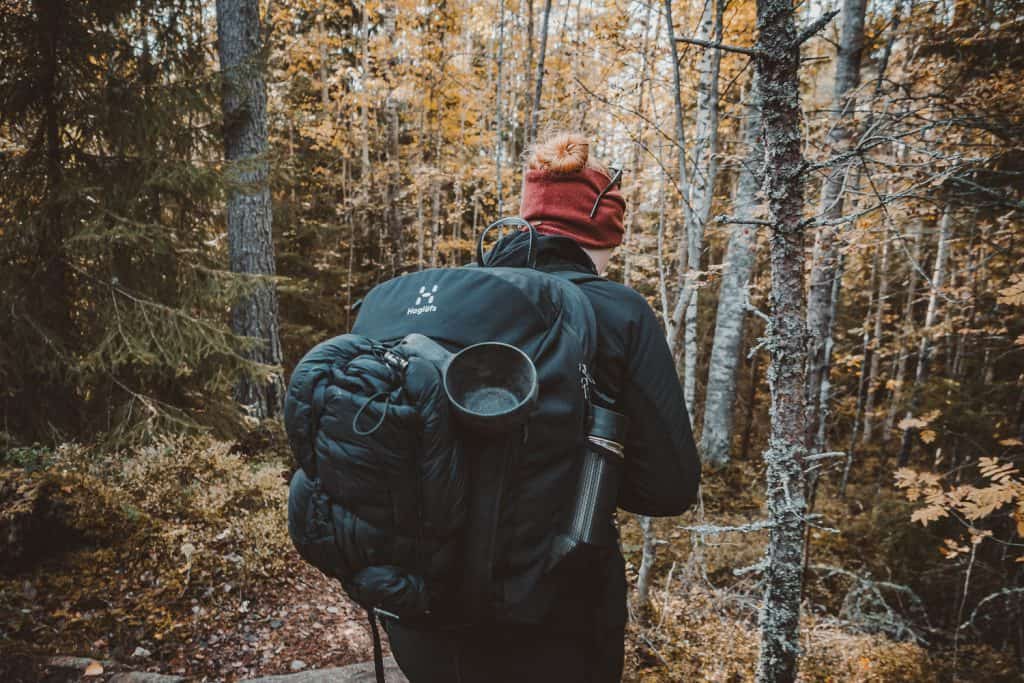 PACKS & BAGS
Yeah about that. I got some questions about the backpack I brought with me on the St. Olav trail, and while I liked it a lot, I can't fully recommend it. For a multi-day hiking trip, the Haglöfs Vide Large was fine size-wise, but it is not a hiking pack. The suspension system that is meant to take the weight off your shoulders was not sufficient for these types of hikes. It was fine, but not great by any means. The size is the issue: I don't need or want a huge pack (this one was a 25l and it was totally okay), but any "proper" packs start at 34l in the smallest variation. So I'm still looking. Rania, who hiked with me, used this Lundhags pack which she liked a lot – she wrote about it here.
Will report back.
Accessories & Gear
KUPILKA CUP: oh I love it! These sustainable, light-weight Kuksa cups by a small Finnish brand are a must for me on any trip. They come in so handy at all times – to have coffee, tea, soup, to pick berries, get some water from a well – so great. Kuksas are a must for any trip, and they are such an embodiment of the Finnish wilderness as well 🙂
THERMOS: my small 33cl thermos is a must for any hike for sure, having some hot tea with you in case you feel a bit under the weather, or coffee to keep your energy going is worth the extra weight for sure. I like the ones from Klean Kanteen or Hydroflask.
HANGING TOILETRY POUCH: this small hanging toiletry pouch by Muji is great, small but big enough for essentials, so convenient to just hang on a towel rack or hook. I got the muji travel containers for all my stuff as well. Recommend.
SEAT PAD – now on my last trip I didn't have mine with me and I had all the regrets as my butt got cold and wet, so this will go in any bag henceforth. For any break on wet ground, cold rocks or what have you – keeps you dry and comfy.
HEADWEAR: lately I have been enjoying my Store of Hope headband so much – it was great on the last hike so keep my ears cozy, while also allowing me to wear my hair up in a struggle bun. I enjoy my Costo wool beanies, but with tied up hair it's uncomfortable and can get sweaty.
BUFF: I'll never go anywhere without my merino buff, which is basically a thin wool tube. It's one of the most versatile pieces, takes up no space and it has always come in handy. Can work as a scarf, headwear of all kinds and tons more.
---
I'm all about comfort, high-quality fabrics and neutral colours, as you can tell. I've started to invest in a couple of quality pieces that have been great whenever I've been out, hiking, biking or just enjoying a bit of wilderness, that I have thoroughly enjoyed and I'm happy with. What are your must-haves for the great outdoors?