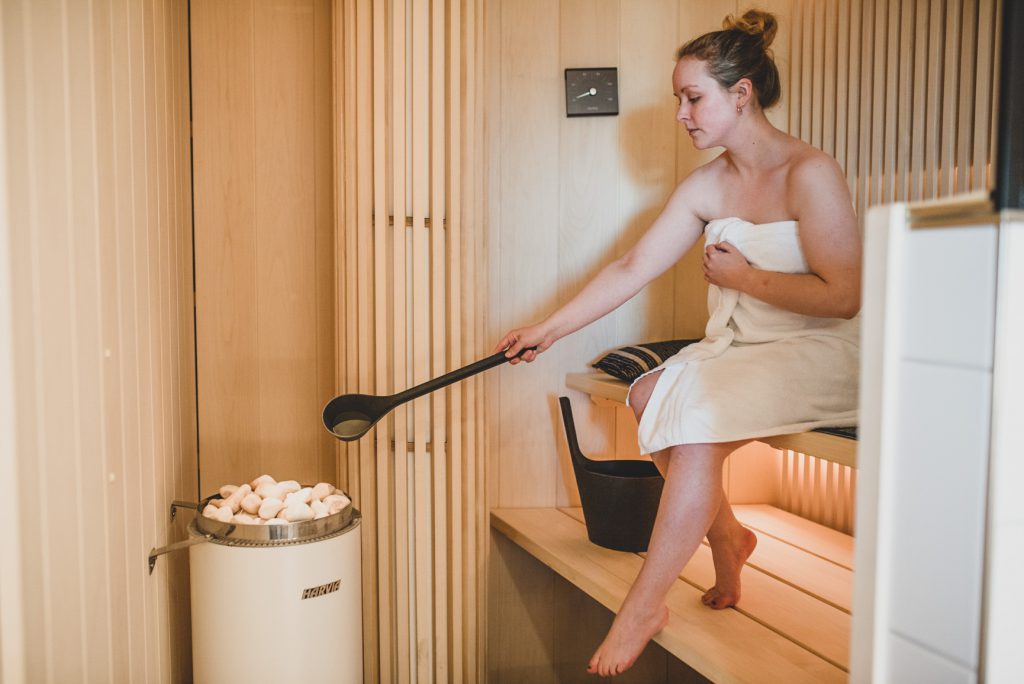 Sauna and Finland really stand for each other, it's probably one of the things that people first associate with Finland, yet there are so many question marks from visitors and new locals about Finnish sauna culture! It took me some time, in the beginning, to really appreciate sauna and learn all about it, but I have come to really love it. My goal for this year is to create a weekly sauna ritual for myself, and really feel the benefits from it.
Here's my take, my favourite sauna places, and my sauna essentials.
---
A bit of background to Finnish sauna
For the older generation, sauna stands for bathing, much how we would say that we take a shower, sauna means that. Back in the days, the sauna was always the warmest place, where people would melt the snow so they could bathe. It was also the cleanest and most sterile place, so women would give birth in the sauna as well.
Why should you sauna?
Going to the sauna has many benefits and Finnish people swear by them. The hot sauna relaxes the muscles, clears the skin and gets the heart pumping and the blood flowing. The cold shower or jump into the cold water after the sauna is a booster for your immune system and arguably also a contributing factor to general health.
When and how often should you sauna?
There is no rule here. For me, sauna is very much an intuitive thing and I try to listen to my body and it's about feeling good and comfortable. I personally prefer to sauna in the evenings and then have a super relaxing sleep, but I've also had really vitalising morning saunas. My aim for this year is to create more of a sauna ritual for myself, as it has yet to become a regular habit – even though I really love it. Some people go to sauna every day, some every week, some more rarely. Again, there is no rule here.
The most important rule is that there is no rule. Sauna is supposed to make you feel good and comfortable. If you are too hot or you don't feel well, you leave. Trust your body and enjoy the sauna.
---
---
What should I wear?
The traditional Finnish sauna doesn't require you to wear anything. The idea of sauna is that it is a clean and sterile place, and any textiles brought into the sauna are counterproductive. However, some modern public saunas do require cover-up, as it's targeted more towards visitors and groups. Traditional public saunas have separated days for men and women, or separate areas for each, but you don't sauna all together. That is different for friends and family (and even colleagues) where it doesn't matter as long as everyone feels comfortable.
Sauna as a social activity
In the last couple of years, the public sauna concept has gone through quite the revival here. Sauna has always been a place to be social, whereas in other countries it is not allowed to talk in the sauna (what), there is often a lot of chatter going on in the Finnish sauna. One man told me recently though that "if there is a lot of talking, it means the sauna is not hot enough." But generally, you hear a lot of people having conversations in the sauna, silence is not a thing. It is quite common these days that instead of going out to a bar with your friends, you go for a sauna together.
Access to sauna
The sauna is an essential and integral part of Finnish life, and the sauna-to-people ratio is quite baffling for many: there are more than 2 million saunas in the country, for a population of currently 5.5 Million. In Helsinki, everyone does have access to a sauna. Most apartment buildings that have been built from the 90s onwards to have their own sauna in the apartment, as an extension of the bathroom. Older buildings tend to have a bigger shared sauna space, that allocates every resident a weekly spot or that you can just sign up for. In the district of Kallio, which is the former working-class district, saunas where skipped during the construction and big public saunas where added around the neighbourhood instead. Many offices also have their own saunas, as after-work sauna is very common and popular, sometimes also meetings are held in the sauna! It's said, that many big political decisions in Finland have been made in the sauna – in the sauna everyone is naked and equal and it provides very neutral ground for discussion.
Types of Finnish sauna
Wood-burning – the traditional wood sauna is my favourite, it is the most common in the countryside and in bigger public saunas as well. It has an amazing smell and a special feel to it!

Electric – that's the one you find in smaller and unventilated spaces such as apartments. It is drier but it does the trick!

Smoke sauna – you love it or you hate it – the smoke sauna is heated with the smoke inside, which is then only let out before you enter. It is black and smoky inside, and you have to be careful not to get a black butt 😉 I personally don't do so well in the smoke sauna, it irritates my throat easily. But most people love it a lot and you can find it in many summer houses and a couple of public saunas, too.
---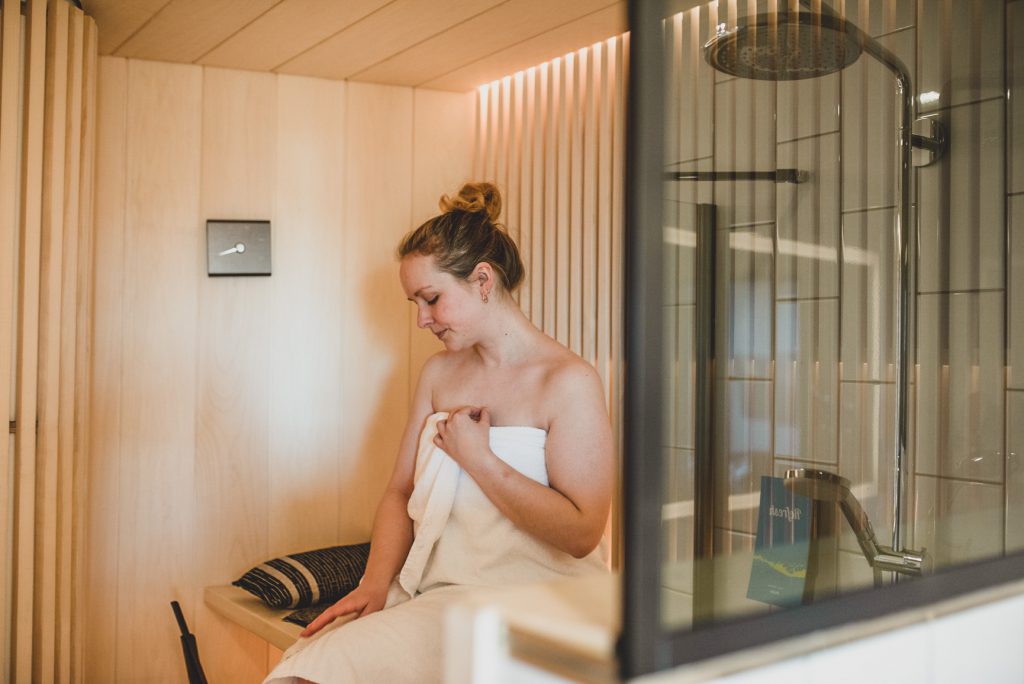 What to remember
Drink water! You sweat a lot and it's important to stay hydrated. Usually, it's not recommended to drink any alcohol during sauna, but let's be real, sauna-beers are a thing and they will stay. Just be careful and again, remember the water.
Anyone can throw a "Löyly" (the hot steam that comes from throwing water on the sauna stones) – ask around before, but anyone can add water. The sauna is not supposed to be dry, so it is quite essential to keep at it! This is what sauna is about. I found is so confusing in other countries that there was an hourly Löyly, where you're not even allowed to touch the bucket, which is just so strange.
Wear a towel if you feel uncomfortable in the nude – unless you are in a public sauna where it is required to wear a bathing suit, it is common to sauna naked. If you don't want to do that, wrap a towel around you. There's usually a sign that forbids swimwear in the sauna, if that is the case.
---
Public Finnish saunas in Helsinki to visit
Löyly – the easiest option to try a sauna with friends and family, where you can also go swimming easily. Great for an evening sauna and dinner, or morning sauna and brunch on the weekends. Book beforehand.
Lonna island – this is a summer sauna and probably my favourite. It is just remote enough to be less crowded, but still so easily accessible with a 10-minute boat ride from the market square. Beautiful wooden island sauna, right by the water. A dream. Separate areas for men and women, Tuesdays are mixed. Book beforehand.
Kulttuurisauna – very nice sauna by the waterside, no groups allowed, no swimwear or towels allowed, this is a true local experience. And you can go swimming straight after sauna, with great city views.
Allas – a nice option if you want to try out if sauna is for you, and if you think you might prefer to swim. There is a mixed sauna available, and of course the amazing outdoor pool area. Mixed and separate saunas available.
Uusi sauna: very cool, modern yet traditional style sauna in the up-and-coming district of Jätkäsaari.
Sompasauna: a makeshift, seaside sauna run by volunteers – this is a truly local experience. Chop your own wood, bring your own water, no reservations, no service. Pure sauna. Mixed, swimwear is optional.
Kuusijärvi: A bit of a drive to Vantaa, outside of Helsinki, this public smoke sauna is a local favourite and still a bit of a hidden gem. Go for a swim afterwards and enjoy snacks in the café. Electric saunas are separate, smoke sauna mixed with swimwear mandatory.
Kotiharjun Sauna, Sauna Hermanni & Arla Sauna: Very traditional city saunas.
---
What to bring to Sauna
Bathing suit or Sauna dress: Depending on the sauna you go to, you won't need one or you can use a towel or a sauna dress if you feel better then. I usually bring a swimsuit just in case,
Bathrobe or dressing gown: I have started to always bring a bathrobe or dressing gown to wear after I come out from the water, or when I have a break by the fireplace. It's so cozy and feels really comfortable, and you can save your towel to dry up in the end after your shower. My favourite is this one.
Slippers: my main mistake is that I forget to take my slippers, even though they do feel quite essential, especially in the winter when the walk from the sauna to the swimming spot is a bit further.
Makeup removal stuff: I always used to forget to bring some, but going into the sauna with makeup leftovers on your skin just doesn't feel good at all.
Hat or headband: this is mostly important during the wintertime when heading outside for a swim, it's essential to have your head and hair protected. Also handy to wear after sauna, in case your hair is still wet when you leave the changing room.
Hair mask: super hack for extra smooth hair after sauna: put on a hair mask on your last sauna round – the heat helps it to absorb and triples the effect!
Woolly socks: There's nothing better than slipping into a pair of cozy, warm socks after you come out from the dressing room.
Other necessities: plastic bag for your wet things after sauna, face moisturizer,