Taste of Helsinki is the event to be for foodies, curious minds and wine lovers. The best restaurants of the city and surrounding areas gather in Kansalaispuisto in Helsinki, and offer their best and signature dishes in small sizes. This way you can spend one restaurant visits budget on 10 different ones and get a glimpse of what each of them has to offer. Next to the food, you can take cooking classes and learn the secrets of the best chefs around!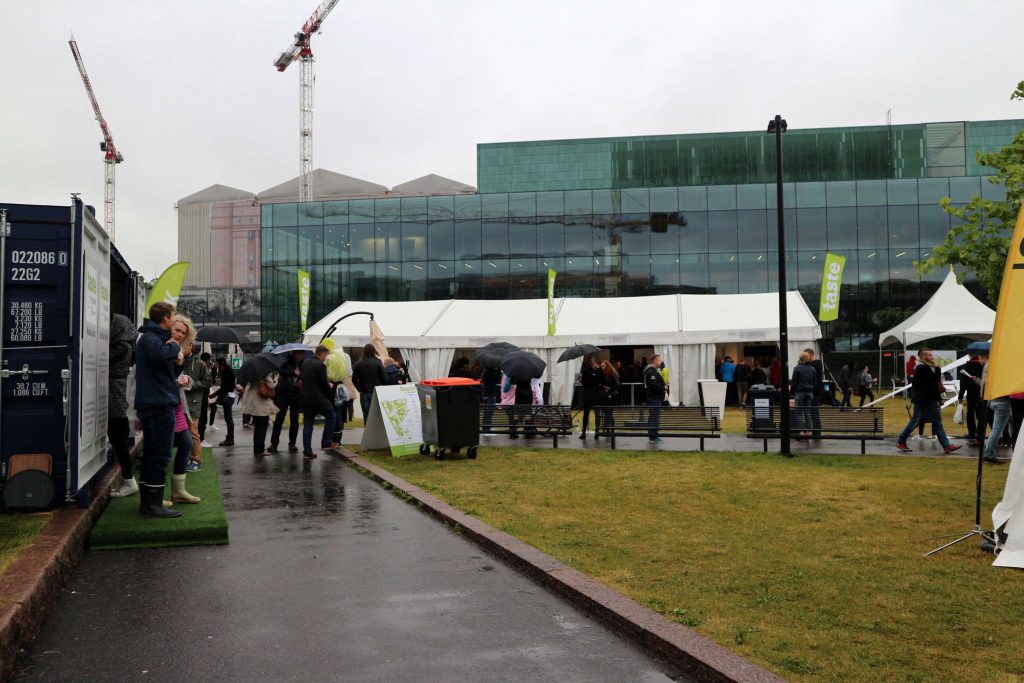 When I'm asked about Taste of Helsinki, I usually get excited like a little kid and start swooning over this event, the atmosphere and the food, the wines and how it's my favourite day of the year. Imagining how I'd wear a long flowing dress, sit in the grass with my favourite sunglasses, toasting with my friends and enjoying the festival until they'd kick us out. I was looking forward to Taste of Helsinki since last years' June, so you can only imagine how disappointed I was, when the weather forecast came upon us. Of course this is serious force majeure going on here and I'm not blaming anyone for it, but I was so disappointed and frustrated. Nevertheless, I put on my fancy new, bright copper metallic rain coat and my wellies, and off we went. In different tents on the festival area you could get food, taste all the wines and talk to the professionals of the industry and simply spend the best time with the people around you.
This years' restaurants: Restaurant Ask, BistrOmat, Restaurant Grön, Hella & Huone, Pastor, Muru, Kolmon3n, Sinne, Toca and Restaurant Ö.
My observations:
finally some rhubarb! Rhubarb is my favourite thing ever and in the least years there was a severe lack of rhubarb around, but finally this was fixed.
so. much. pork. Not that I'm complaining, pork is delicious but I felt I'd have preferred to have a bunch of alternatives too. There was one exquisite lamb dish and I remember beef too, but the pork was clearly up on top there.
Not food related, but still: it was nice to see, that the Finns weren't scared off by the weather. Of course it wasn't as crowded as it would have been in bright blue sky and sunshine, but it was still busy and the general mood felt relaxed and happy. Despite the weather!
Favourite of the day: huhuh, a hard one. The glazed pork from Hella&Huone (a restaurant from Tampere) was definitely one of my favourites. So tender and full of flavours! Also, the lamb from Ahvenanmaa and the rainbow trout with peas (both from Toca) were the two that I remember most vividly. Lamb usually isn't really my thing but it was one of the few alternatives to fish and pork, and I am so glad I tried them. Very subtle flavour yet strong enough to make it so exquisite. As for desserts, the Rhubarb compote, Sorrel and spruce shoot, buckwheat crumble from Restaurant Ö (and Estonian visitor) takes the crown for this year!
Wine of the day: I only had two this year and I honestly can't decide over which one I liked better. I started off with a gentle and crisp Rosé, that matched my jacket perfectly but also my mood, light and delighted. With my mains I went for the Barbera d'Alba from the Sakula winery in Italy, where the Finnish owners have been producing a small batch of this exquisite red for 10 years now. Very smooth and slightly acidic, and not as dry as the colour might indicate. I'll try to find a bottle of this one, for that special occasion you need a good bottle for.
Disappointment of the day: plenty of dishes were a bit oversalted for my personal taste, that's more of a general thought. Of course there's nothing at Taste of Helsinki that's not objectively good, but some of the dishes were completely overpowered by salt, which I found a shame. I like my food quite salty already but this was borderline too much.
Surprise of the day: The arancini from Toca! Probably none of us thought much of it when we got them, but it was one of the few vegetarian options in that tent, so a bunch of our group went for it. And then went for it again. And the next day made them at home. Says all, right? Those deep fried rice balls filled with cheese were mindblowingly good, and fresh and crispy…a group favourite!