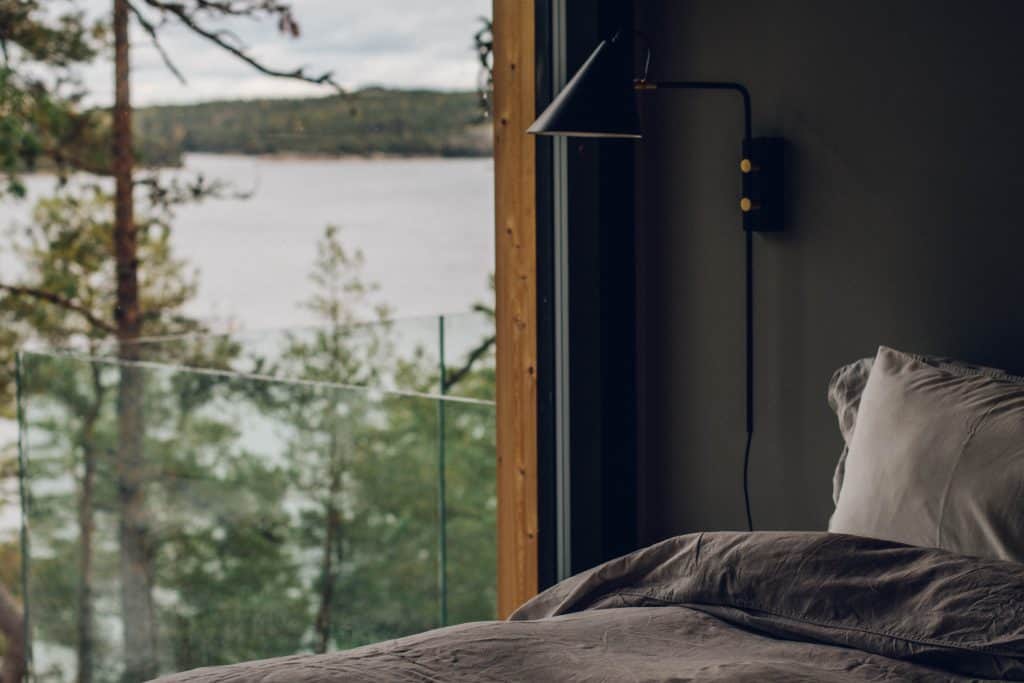 After our 4-day hike of the St. Olav Waterway trail, we found ourselves back in Nagu. Rania, who was on the trail with me, and my dear friend Veera had been saying for months that we need to get together, for both catching up, but also to look into our respective businesses and brainstorm over ideas and opportunities. Sometimes this whole entrepreneur thing can be a struggle, and it takes clever minds and good friends, smart ideas and other perspectives to kick your butt and to move forward with what you're doing.
Villa Nagu is an incredible house on the shoreline a couple of kilometres outside of the town of Nagu, and it is the perfect spot for what we had in mind. Secluded in the wilderness, cosy, yet full of design details, and hence was the perfect inspirational spot (and just the most beautiful backdrop) for us.
---
---
---
I still struggled with a really hefty cold and an injured knee (I definitely felt like about 86 years old), so slowing down in this incredible space was just what I needed. The girls let me take the bedroom by myself, so I wouldn't keep them up with my cough and wouldn't disturb them if I went to bed early or slept in. And I'm still very grateful for that! I was lucky that the room was the one with the massive glass front looking out into the forest, all the way to the sea and it was the most calming to just lay there and watch the nature outside.
We spent the perfect days at Villa Nagu, with making delicious food, drinking hot chocolate that I brought for us from Luxembourg, and smooth red wine (thank you Winestate for sponsoring us some of their Into the Woods wine!), Rania took up the duties of the fireplace master and kept a fire going almost throughout the entire stay, and we took a hot bath in the outdoor hot tub.
Villa Nagu is really such a beautiful place. The design elements are so well thought through, a mix of Finnish design pieces like Iittala glassware, the Hakola sofa; the choice of colour and fabrics – everything made us question all our design choices at home! Since our visit, I have added a couple of things such as the bed linen, two kinds of candle holder and more pillows to my apartment.
---
---
The days we spent at Villa Nagu were just slow and peaceful, and just what we all needed, especially after a hike. It was such a pleasure to just simply set the table. Everything in this place was just so aesthetically pleasing and put all of us in such a different mindset. We made my favourite tomato pasta, Veera treated us to her famous avocado toast one morning, we made banana pancakes and snacked our way through the fridge.
The plan was the following: go through each of our businesses and identify areas that we can improve, find solutions for issues we're facing and figure out how we can help each other. All three of us have our own businesses that come with their own challenges. It's always good and helpful to talk about things that keep your mind too busy and get other perspectives on things – and just get our shit together. In an inspirational surrounding with few distractions, a place like this was just the perfect choice.
Unfortunately, I felt like my cold was really holding me back here, I couldn't focus, was coughing all the time, and I was just so dead tired. Well, all the more reason to come back.
---
I can't recommend the stay here more – really in every season. It's the kind of place that you don't feel bad about staying inside all day, so the cosy season or even for Christmas I could see this as the perfect place. In the summers, you're right by the seaside and in the middle of the forest, so also the perfect location.
Thank you for having us, Villa Nagu! We loved every bit of our stay.
---
Check out Rania's post here and Veera's post over here!
---